Nimbushuset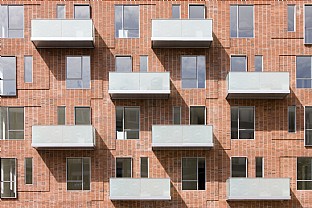 Client
De Forenede Ejendomsselskaber (DFE)/Aicon
Address
Copenhagen, Denmark
Year
2006-2008
Competition
1. prize in architectural competition. 2006
C.F. Møller Architects has reinvented the way to use brick facing - as can be seen in the multi-storey Nimbushuset building in Frederiksberg.
Facades made up of prefabricated elements are usually dominated by broad strips of sealant, which forms a monotonous structure connecting the prefabricated parts. To do away with this monotony, C.F. Møller Architects has developed a new type of concrete element in which the bricks of the facing vary in depth. This creates a play of displacements which throws shadows on the sealant. At the same time, a facade pattern emerges which is in harmony with the brick patterns of the older Frederiksberg properties.
The project is grounded in the concept of Bedre Billigere Boliger (Better Cheaper Housing), the aim of which is to develop new housing which combines innovative and experientially rich architecture with extremely low construction costs.
Team
Construction
Aicon
Engineering
Aicon
Architect
C.F. Møller Architects
Awards
1. prize in architectural competition. 2006
Energy and sustainability
| | |
| --- | --- |
| | Prefabricated components |
| | |
| --- | --- |
| | Energy renovation |