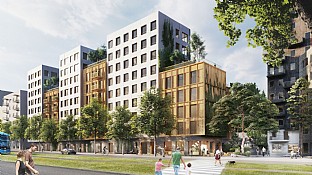 Hälsovägen
Hälsovägen in Huddinge is a vibrant new residential district that is close to nature, and it features 300 new homes and premises on the ground floor, with an emphasis on sustainability and accessibility.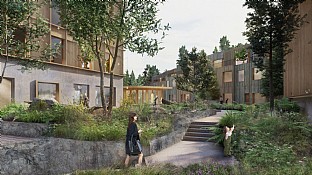 Facts
Year
Tävling mellan 2020-05-06 till 2020-08-14
Architect
C.F. Møller Architects
Landscape
C.F. Møller Architects
Awards
Projektering. 2021
Markanvisningstävling. 2020
The project addresses the need for innovative housing and sustainable construction, in line with the municipality's vision for Flemingsberg going forwards. Flemingsberg is deemed to be one of Sweden's most significant areas of regeneration, featuring great growth and major development opportunities. What distinguishes Hälsövägen is the buildings' wooden frames and co-living apartments, and their design includes value-creating urban architecture and integrated landscape design. The team includes architects and landscape architects, and the project is being implemented in close collaboration with the company Colive, who provide social and flexible housing concepts through co-living – a form of living that offers shared accommodation for people with similar values and intentions.
Integration between building and landscape
The project is based on buildings with timber frames and facades made of timber and sheet metal A stone granite plinth with large glass sections has been constructed to create the feeling of a vibrant city street. The landscape department has designed a shared courtyard on the existing steep, rocky terrain – integrating the landscape and the buildings with C.F. Møller Architects' integrated design approach.
Gallery