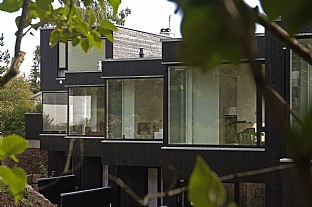 Residences Bjørnveien 119
A small-housing development, eight houses in total, make up this complex situated at the edge of Oslo's suburbs and city center. A mix of detached houses, row houses and apartments form the concept to create inventive row houses that could meet a range of different needs. Versatility, multiple exterior spaces, communal courtyard, submersed parking, and balconies are just some of the features.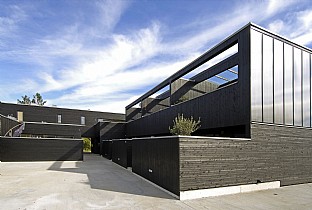 Facts
Size
1,868 m² inkl. parking area (8 houses)
Construction
Bøhmer Entreprenør AS v/ Thorbjørn Boman og Eivind Berge
Engineering
Will Arentz AS, Solarnor AS
Architect
Dahle/Dahle/Breitenstein AS (Since 2012 the project is part of C.F. Møller Architects references)
Landscape
Dahle/Dahle/Breitenstein AS w/Asker & Bærum Grøntmiljø AS
Collaborators, other
Aventa AS v/ John Rekstad
Awards
NSWs Jubileumspris. 2008
Byggherreprisen. 2007
Sundts premie. 2006
All homes have multiple aspects, with panoramic windows and skylights. The layouts are flexible, with rooms that can serve many purposes. The atriumhouses feature a small double-height interior glazed courtyard. On the south elevation, 100 m2 of solar panels are integrated, which provide hot water and a quarter of the homes heating energy demands.
Gallery