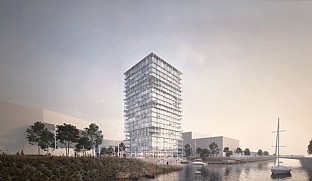 Residential Tower Neuländer Quarree
The residential tower is a bright, high-quality and exclusive residency. It has an outstanding architecture that reflects the maritime atmosphere and with its silhouette appears cubic and precise but lively at the same time.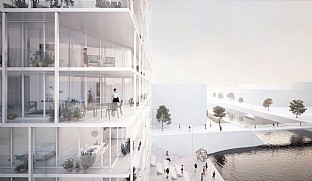 Facts
Address
Hamburg-Harburg, Germany
Client consultant
D&K drost consult GmbH
Architect
C.F. Møller Architects
Collaborators, other
Krebs+Kiefer Ingenieure (acoustics)
Awards
2. Prize in international competition
The residential tower located in Harburg inland port in Hamburg has an outstanding architecture that stands in the extension of the former industrial harbor and reflects the special location with its mixture of a maritime atmosphere and a relic from a vanished time. The silhouette of the building appears cubic and precise but at the same time lively and is a striking landmark related to the other towers and silos of the district. The rhythmic wrapping with continuous balconies behind a level of white supports in a colossal order gives the facade a filigree, vertical appearance, and breaks down the volume of the residential tower to a human scale. These outdoor spaces are understood as an extension of the living space with glass balustrades that provide both weather protection and openness with maximum visual contact.
The building has a total of 190 residential units with two, three or four rooms. All units are attractive and functional and have a clear height of 2.80 m which creates a generous feeling of space and gives each unit a unique view over the city and harbor. Terrazzo concrete elements and light Norwegian granite, combined with window frames in bronze, gives the building a timeless, robust and exclusive appearance. An arcade is placed at the foot of the tower that with its transparently design refers to the surface of the water. In addition to the entrance area the café and other rental spaces are guaranteeing liveliness and urban life on the ground floor.
Gallery