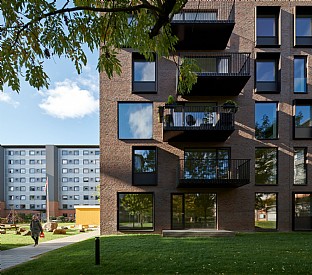 Mariendalsvej
New student and senior citizen housing in Frederiksberg, with a new public urban space, recreational facilities and passages that create an increased level of activity in the area.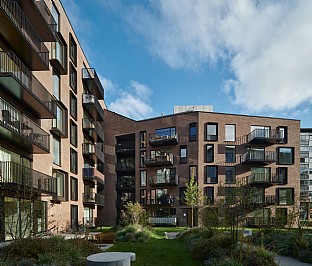 Facts
Address
Frederiksberg, Denmark
Size
9,700 m², 175 youth units and 50 senior units
Client consultant
Runesten Rådgivning Byr Gruppen ApS
Construction
Adserballe & Knudsen A/S
Architect
C.F. Møller Architects
Landscape
C.F. Møller Architects
On a former industrial site in Frederiksberg, a new student and senior citizen housing development is emerging which, together with a new public urban space will give the Nordre Fasanvej Quarter a social, economic and environmental boost.
With a new public urban space and a passage through the neighbourhood for pedestrians and cyclists, the goal is to increase residents' desire to make use of the area. The area is a quiet, everyday neighbourhood with classic brick squares, villas, businesses and a non-profit residential area; Stjernen.
The project includes 175 new student homes and 50 senior citizen homes in two buildings. The two brick buildings, an "angle" and a "T" shape, respectively, will be incorporated into the existing square structure, but with their own architectural profile characterised by intersections and indentations in the façade and a secluded ground floor with patterned brickwork in the classic Frederiksberg style.
A meeting place that strengthens good everyday life
From the street, a striking opening between the buildings creates a connection to the enclosed public residential area Stjernen, passing through a new public square on the way. The square is a meeting place for the whole area, designed to accommodate city life, giving the area's residents better opportunities to take a break, enjoy the sun and live a good day-to-day life. By linking the urban space to Stjernen's green outdoor areas with playgrounds, barbecue areas, sport facilities, etc., a new connection is established in the neighbourhood for both pedestrians and cyclists.
The senior citizen housing does not consist of typical homes for the elderly, but homes provided with a lift, balcony and roof terrace and arranged in such a way that they can easily be adapted to the needs that arise with age.
The student homes are established as shared units with 4-5 rooms around a common kitchen and living area.
Gallery