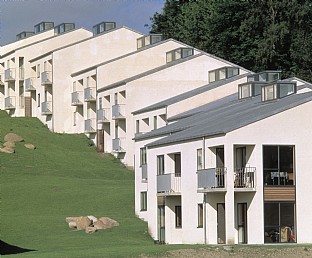 Ny Moesgård
The housing project in Skåde, south of Aarhus, consists of 83 dwellings situated on a hillside, sitting alongside a valey in the open grazing land.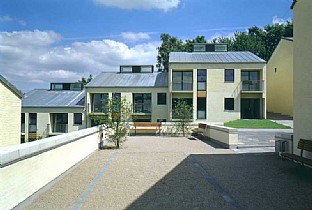 Facts
Client
Tryg-Baltica Ejendomme
Construction
Skanska Jensen Entrepenør A/S
Architect
C.F. Møller Architects
Awards
Aarhus Municipality Architecture Award. 1999
The dwellings are organized in three east-west oriented housing chains that accentuate the existing slope of the landscape and simultaneously, in a natural terracing, take advantage of the existing views and solar orientation of the site.
The dwellings, each two storey high, have bright, lime-washed masonry facades. Together with the standing seam zinc roofs they help to create a warm overall expression defined by the contrast between the masonry surface and the smooth, clear zinc roofs.
The three housing chains are situated so that the valley is left untouched and preserved as a green and grassy area with various rare plants.
Gallery