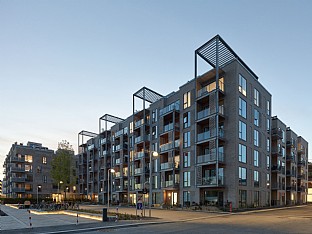 Sundmolen, Copenhagen Square
The vision for Copenhagen Square is to create a unique identity for Sundmolen which is respectful of the historic area. Green spaces and an attractive promenade along the waterfront, create an inviting space that contributes to a lively outdoor area.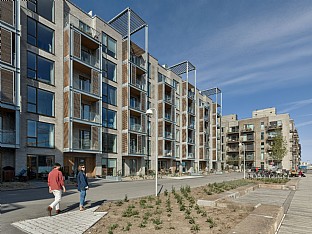 Facts
Address
København, Denmark
Size
7,700 m², 80 apartments
Architect
C.F. Møller Architects
Respecting the historic context, the architectural expression of the building aims to emphasise and create a contrast with the distinctive warehouses which are preserved on the northern part of the pier. The building is designed with a vertical expression to emphasise the individual units, which gives the appearance of a more scaled-down and varied structure. Bright and light-coloured materials make the building stand in elegant contrast to the red warehouses. Using materials which contrast with the bright and light colours of the façade, the details around the roof and window openings are emphasised. Projecting elements of the façade such as balconies, and bay windows are designed so that they all contribute to the overall façade expression.
Space for recreation and activities
Copenhagen Square is designed to form a rectangular town square consisting of three buildings. The buildings to the north form the corners which face the green courtyard, this is divided by two passages leading into the courtyard with space for recreation and activities. The building to the south has a distinctive façade, consisting of four tower elements. On the tallest building facing the quay, the roof is clad with galvanized steel panels which respond to the stacked vertical balcony elements. These vertical balcony elements protrude from the façade, referencing both the surrounding area, and the aesthetics and function of the ships. The galvanized balconies also have wooden slats in heat-treated pine. The elements act as protection from the sun and provide privacy to residents. The building is constructed from natural, sustainable, and durable materials which will weather beautifully. On the ground floor of the building, timber fins and panels of patterned brickwork have been incorporated into the façade to mark the entrances, and integrate the lighting and intercom systems.
Gallery