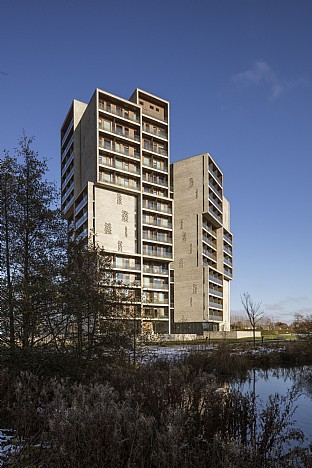 Campus Hall, University of Southern Denmark
The design of the new student housing for the University of Southern Denmark in Odense is based on a strong community spirit.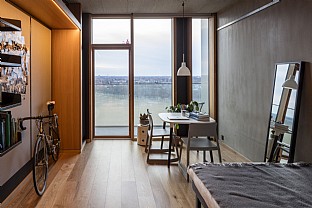 Facts
Client
A.P. Møller og Hustru Chastine Mc-Kinney Møllers Fond til almene Formaal
Size
15,900 m², 250 student housing units + 20,000 m² landscape
Architect
C.F. Møller Architects
Landscape
C.F. Møller Architects
Awards
Civic Trust Award. 2017
Fritz-Höger-Award, Special Mention. 2017
Worldwide Brick Award, commendation. 2017
AR Housing Awards - Highly Commended. 2016
Odense Municipality Architecture Award. 2016
The 250 student residences are located in three interconnected 15-storey buildings. This means that the residence has no front or back, but appears attractive from a 360-degree perspective. The building's distinctive shape makes it easily recognizable on the campus. The dorm rooms are located on the outer faces of the three towers, where they all enjoy views of the countryside without overlooking neighbouring rooms, due to the building's turns and twists. Each room has a private balcony, which both helps make the homes attractive, but also has an environmental function: The shading internal balconies help manage solar gain, contributing to significant energy savings.
Moving inwards from the private rooms towards the communal kitchen in the centre, areas gradually become more and more collective: A shared living room acts as a social meeting place for the small cluster of seven rooms, which all residences are grouped in, and acts as a transition to the fully communal spaces. The kitchens at the centre of each floor are shared by all, and feature generous glazed facades that ensure light and views in three directions. The top floors have spectacular views, and are reserved for common activities such as study groups, party rooms and green roof terraces.
Gallery