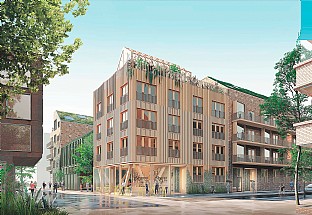 Valand Block 5
Valand Block 5 is a new modern residential area of apartments and townhouses in Kungsbacka, Sweden. Block 5 is designed with a focus on innovation and sustainable construction with synergies between the individual, the dwelling, the neighbourhood and urban life.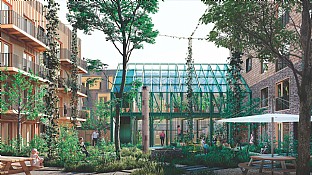 Facts
Architect
C.F. Møller Architects
Landscape
C.F. Møller Architects
Valand Block 5 is an urban residential neighbourhood that provides a framework for circular and sustainable architecture that contributes positively to climate goals and promotes health and well-being. The vision is a strong neighbourhood feel with value-creating synergies between the private and the public, and the indoors and outdoors. Generous and glazed spaces over corners along Valands Promenade and clearly articulated residential entrances along the cross streets contribute to the urban character. Timber and sustainable materials in both structure and facade define the character of the block. Urban timber facades combined with recycled brick give the block a unique and contemporary look.
The design of the block optimises the framework for residents to have easy access to common functions and objects. The communal residential courtyard and the three roof terraces are accessible from all stairwells and are designed to create synergies between the individual, the community, the neighbourhood and urban life. By creating communal spaces adjacent to the roof terraces, the conditions are created for working at home, meeting neighbours or organising a party.
A sustainable oasis in the city
The semi-private residential courtyard is designed with the vision of prioritising community functions over private ones and creating a radical lush courtyard that brings nature to the doorstep. A large depth of vegetation on the garage's beams provides the perfect conditions for rich and diverse plant life, large trees, travel-friendly ecosystem services and sustainable stormwater management.
A showroom-style retail garden called the "Green Villa" adjacent to the courtyard is a place where customers can view and order plants for gardens and balconies. The courtyard is part of the shop's display area and thus hosts ever-changing furnishings such as chairs, pots and even plants, which benefits both the shop and the residents' garden. By extension, residents are also encouraged to grow plants and plant them in the garden. The ornamental, wildly growing and changing courtyard is complemented by large 'pillars' for climbing plants, creating the feeling of a green oasis in the city.
All the materials used in the design of the courtyard are made entirely from recycled materials. Different types of paving are sorted and then used as paving stones. The materials are alternated and finally form a patchwork of different finishes.
Gallery