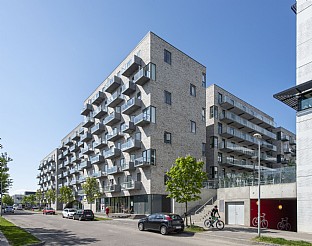 CeresByen, Bryggerhaven
Flats designed for students and young families as part of the Ceres City, a new quarter of Aarhus, Denmark on a former brewery site near the city centre.
Facts
Size
15,400 m², 230 living units
Engineering
Ingeniørfirmaet Viggo Madsen
Architect
C.F. Møller Architects
Landscape
C.F. Møller Architects
In 2008, C.F. Møller was behind the master plan for CeresByen, which is transforming the old brewery site in central Aarhus into a vibrant new quarter that is home to around 1,000 people - and the place of study for around 5,000 students at VIA University College. This project includes a new residential block with 230 homes in one corner of CeresByen.
Divided into small, shareable two-to-three roomed flats, and one-room studios, the homes are intended especially for the city's young people and students, and for young families.
The residential blocks are built of brick, with timber sections towards the courtyard, in a staggered pattern so that the overall complex has a varied façade profile. The heart of the building is a green courtyard, which contains a soft and hilly grassy landscape. The aim is to add an idyllic country atmosphere to urban life, with recreational areas placed between the courtyard space's low hills and changing levels. There is free access to the courtyard area through small alleys between the buildings, and also from Ceres Allé, where a bricked arch marks the entrance to the courtyard complex. Each of the flats in the complex will have access to its own balcony.
Gallery