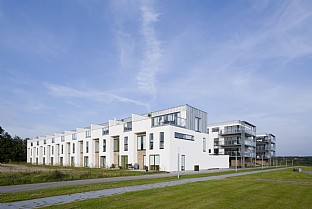 Fjordbyen, Port of Haderslev
The former Haderslev harbour is being transformed into a new urban district with housing, business and recreational areas, according to a master plan compiled by C.F. Møller Architects. The plan indicates a phased transformation of the industrial harbour, with three new cultural centres: a cultural island where the two industrial silos will be preserved as a landmark, a new public service centre, and a recreational beach park.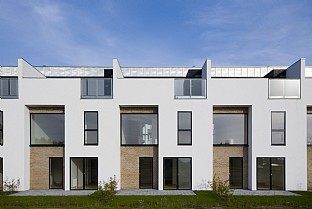 Facts
Address
Haderslev, Denmark
Competition
Awarded the contract. 2005
Engineering
Hundsbæk & Henriksen A/S
Architect
C.F. Møller Architects
Landscape
C.F. Møller Architects
Collaborators, other
With support from the National Building Fund
Awards
Awarded the contract. 2005
Around this, a new urban district characterised by housing and light industry is growing up along the banks of the fjord. The Fjordbyen housing complex is the first stage in the master plan, and consists of 10 Dutch-style terraced houses of 150-170 m2 each and 24 apartments beside Haderslev fjord.
Gallery