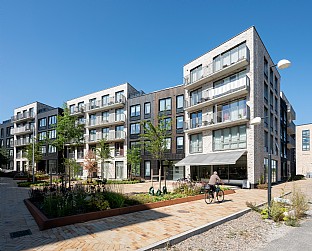 Futura, Södra Brunnshög
The neighbourhood of Futura in the new district of Södra Brunnshög is based on long-term sustainability and quality through the conscious use of durable, natural materials that contribute to the creation of Lund's greenest district.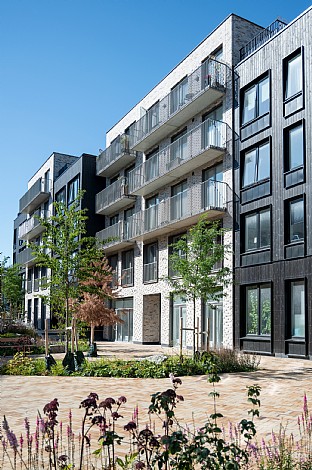 Facts
Client
Slättö Projektutveckling
Architect
C.F. Møller Architects
Landscape
C.F. Møller Architects
There are 51 owner-occupied apartments with rooftop terraces, balconies and outdoor areas. The housing association's bicycle parking and workshop are accessed directly from the neighbourhood's central square. On the ground floor, commercial premises and a café are located in the corner of the square adjacent to the new tram station. The façades are made up of contrasting light and dark shades in neutral tones. The houses express variation through a tasteful use of solid façade materials such as brick, wood and large glass partitions.
Lund's greenest district
The residential estate is leafy and includes common facilities such as a large communal dining area and playground. A highlight of the scheme is the communal rooftop terrace and greenhouse, where you can relax and take in the view over Brunnshög and the city centre. Futura will contribute to the city's vision that Södra Brunnshög shall become Lund's greenest urban district with a number of parks, green spaces and vegetation.
The new district of Södra Brunnshög is now progressing with housing, workplaces and services for almost 40,000 people. One challenge in this project has been to ensure that the district shall become an inspiring pilot project for sustainable development, with the key concept of incorporating diverse architecture with integrated green spaces. Urban cultivation in different forms sets the character in the area, with increased biodiversity and biomass contributing to a positive environmental effect.
Södra Brunnshög is the first major development phase in the new district with approximately 700 dwellings divided into rental properties, owner-occupied homes and townhouses.
Gallery