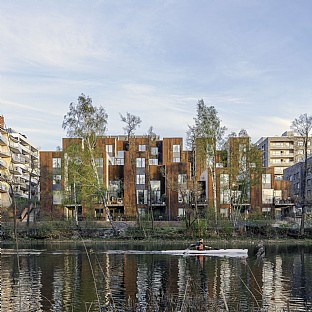 Zenhouses, high-profile environmental development
The buildings' design weaves the indoors and the outdoors together, since the landscape and the outdoor environments are a significant element of how the homes are experienced.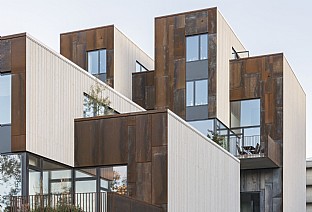 Facts
Client
Erik Wallin AB and Midroc
Competition
1st prize in parallel comission. 2010
Architect
C.F. Møller Architects
Awards
Nominated for Plåtpriset (Swedish steel plate Award). 2018
Nominated for Bostadspriset (Swedish Housing Award). 2017
1st prize in parallel comission. 2010
The Corten steel on the facades relates to the gasworks area's red brick façades and the natural ochre colours of the Royal National City Park. The façades' vertical lines are reinforced in the encounter between the Corten steel and the lighter wooden façades. The buildings' folded façades and large continuous glass sections frame the private outdoor areas and terraces. Sight lines and double-high storey heights contribute to transparency and space, with daylight reaching deep into the homes. The materials selected for the interior are an extension of the residential complex's natural materials of slate and wood.
The alleyway between the two rows of townhouses is lined with entrances, private outdoor spaces and the elevated arcade that contributes social values to the quarter and the overall city plan. The landscape architecture and the vegetation interact with the buildings' architecture and contribute to the project's overall life cycle perspective. The choice of materials and vegetation have Nordic ties, in order to interact visually and naturally with the surrounding site. Sedum roofs and vegetation in rich soil allow for biological diversity, extensive ecosystem services and stormwater detention. The overall concept for the building's total environmental footprint includes solar panels, eco-friendly materials, smart control systems, charging poles, highly-insulating insulation, etc. Zenhouses was nominated for the 2017 residential building prize. The Zenhusen is carried out in cooperation between Erik Wallin, C.F. Møller Architects and Ramboll.
Gallery