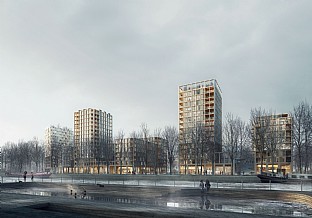 City Dox Brussels
Located alongside a canal, the City Dox provides wonderful views for every apartment. In between the buildings, green gardens provide a meeting point and remedies for biodiversity in the area.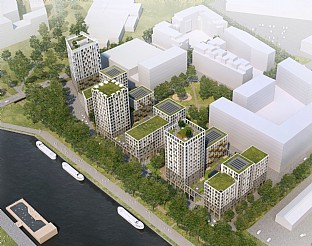 Facts
Size
60,000 m², 460 1-, 2-, 3-room apartments, studios, common spaces, production & retail, and landscape
Architect
C.F. Møller Architects in collaboration with BRUT
Awards
2nd prize in architectural competition. 2019
City Dox is a new apartment project in Anderlecht, a municipality in Brussels, Belgium. The project is located in a lush nature area, along the Digne du Canal. The project consists of three buildings which are all placed on top of a 6-meter-tall plinth containing production and retail facilities. The tallest building is 14 stories and a challenge with the project has been to reduce the visual appearance of the buildings. To make the buildings appear less towering, a dark, solid base is used as a foundation, which accommodates the production and retail spaces; above the ground floor, the base fluctuates in heights and a light grid, which is pulled out of the façade, adds to further reduce the impact of the building. The light grid also creates depth and the impression of the building merging into the sky.
A green centre
All the buildings are connected through the ´Green Heart´ of the building, an elevated garden. By giving access to the parking garage through the garden, it will be actively used throughout the day. The roofs on the tall buildings have solar panels, and the lower roofs are green - adding a nice view for the apartments above. In addition, beehives, rainwater collection etc. are an integrative part of the area, to add biodiversity to community.
Gallery