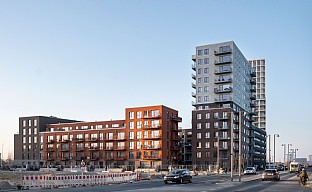 Gertrudehus
On Ørestad Boulevard you will find Gertrudehus, which reflects the nearby community with its green and vibrant courtyard environment and a clear reference to the classic Copenhagen neighbourhoods.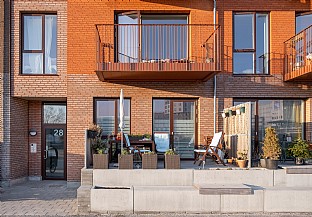 Facts
Address
København S, Denmark
Construction
V8 Construction
Architect
C.F. Møller Architects
Landscape
C.F. Møller Architects
Gertrudehus consists of 166 modern and spacious apartments, where optimal daylight conditions and floor plans provide the framework for good everyday life. The homes are bright and welcoming and have access to their own balcony, rooftop terrace or garden.
Gertrudehus is built on the basis of the architectural features that characterise the Copenhagen building style. The building is designed as an open tenement block structure, surrounded by a green and vibrant courtyard environment. The courtyard is designed as a common outdoor area for the residents, with room for play and recreation. The courtyard is planted with trees and tall grasses, inspired by the proximity to the Commons. From the courtyard there is access to the stairs and bicycle parking.
Varied and accommodating architecture
Gertrudehus is primarily built in earth-coloured brick, a material that characterises large parts of Copenhagen and weathers beautifully. In order to create variation in the façades, bricks are used with different shades and details that create diversity in the façades, without compromising the overall effect of the buildings. Variation in façade height, recesses and changes in material scale down the volume of the building create a varied and welcoming architecture for residents and visitors alike. Towards Ørestad Boulevard, the building ends with a tower, with a specially designed relief in the façade. White-coloured concrete elements create a distinctive relief that refers back to the classic Copenhagen brick buildings in both format and pattern. With its light colour, the tower stands as a clear marker and a landmark in Ørestad.
Gallery