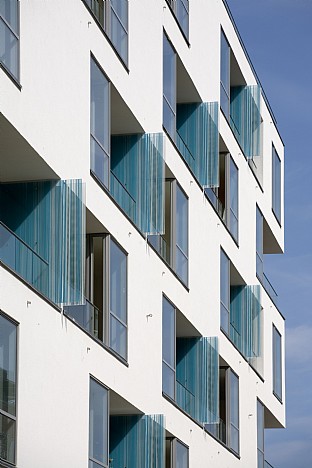 Nordlyset
Nordlyset (Northern Lights) is a sculptural residential block with an expressive facade, located in the new urban quarter around Amerika Plads in Copenhagen.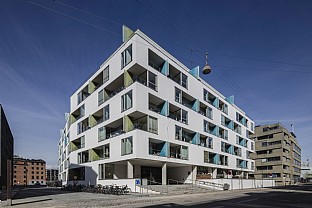 Facts
Address
København, Denmark
Size
11,000 m² +3000 m² parking 102 dwellings
Construction
E. Pihl & Søn A/S
Architect
C.F. Møller Architects
Landscape
C.F. Møller Architects
Awards
Copenhagen Municipality Building Award. 2007
Nominated for the Mies van der Rohe Award. 2007
Named Building of the Year by the trade periodical Byggeri. 2006
Vinder af Årets Kontorbyggeri 2023
The development takes the form of a white-plastered block surrounding an interior outdoor courtyard. The facade line is broken to the north and south, giving the building an organic expression, while the bright and friendly-looking apartments enjoy a view of the Sound. The details emphasise the overall expression, with coloured glass panels in a bright striped pattern, designed in co-operation with the visual artist Ruth Campau. The glass panels divide off the balconies, and are also utilised in the block's entry areas.
Gallery