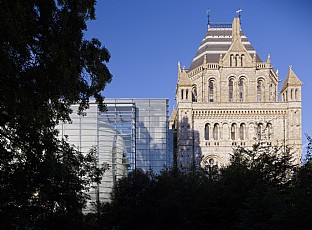 Darwin Centre, fase 2
Andre fase av Darwin-senteret er en utvidelse av det berømte Natural History Museum i London.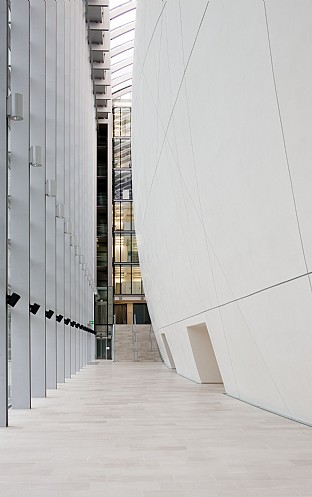 Fakta
Byggherre
The Natural History Museum
Konkurranse
1. premie i arkitektkonkurranse. 2001
Entreprenør
BAM Construct UK (main contractor)
Ingeniør
ARUP (konstruksjoner)
Fulcrum Consulting (installasjoner)
Buro Happold (brandstrategi)
Arkitekt
C.F. Møller Architects
Landskap
C.F. Møller Architects
Andre samarbeidspartnere
Turner and Townsend (kostberegning)
Premiering
Civic Trust Award. 2011
Dedalo Minosse Award, hederlig omtale. 2011
Nominert til RIBA Award i London. 2011
Nominert til Condé Nast Traveller Innovation & Design Awards, kultur. 2010
Nominert til Project of the Year i Building Magazine. 2010
Nominert til RIBA Awards i London. 2010
Vinneren av Association for Consultancy and Engineering Awards i kategorien Best Service Engineering Project: Large Firm. 2010
Concrete Society Award, Overall Winner. 2009
Nominert til Mies van der Rohe Award. 2009
Plaisterers' Trophy Awards, hederlig omtale. 2009
Structural Award for Arts or Entertainment Structures. 2009
1. premie i arkitektkonkurranse. 2001
Tilbygget er utformet som en massiv, åtte-etasjes kokong i et glasskrin. Natural History Museum er en av Storbritannias fem største attraksjoner og samtidig et forskningssenter i verdensklasse. Darwin Centrets arkitektur gjenspeiler denne dobbelte rollen og avslører for første gang spydspissforskningen og mangfoldet i museets samlinger.
Kokongen er skapt til å fremstå som en stor silkepuppe og danner den indre, beskyttende beholderen rundt museets enestående samling av 17 millioner insekter og 3 millioner planter. Størrelsen og formen gir den besøkende et håndfast begrep om omfanget av de bakenforliggende samlingene. Temperatur- og fuktighetsstyring forhindrer nedbrytning og skadedyr slik at samlingene kan bevares i lang tid fremover. Det sprøytestøpte betongskallets eksponerende termiske masse stabiliserer inneklimaet og reduserer energiforbruket.
Publikums adgang til det vitenskapelige miljøet i Darwin Center består av en besøksrute som beveger seg opp og gjennom kokongen. Her får museumsgjestene førstehåndsopplevelser av Darwin-senteret som et fascinerende interaktivt lærested hvor man kan observere det vitenskapelige arbeidet uten å komme i veien for forskningen.
Galleri