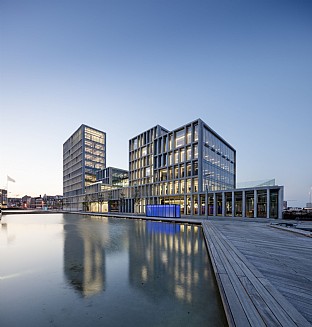 Bestseller Office Complex
The office complex comprises a varied flotilla of buildings at different levels connected by a series of outdoor spaces, e.g. courtyards, terraces and roof gardens.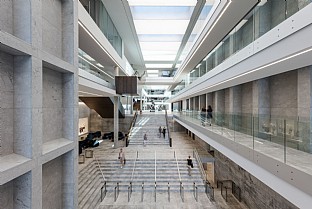 Facts
Size
22,000 m² commercial office and 24,000 m² delivery, parking and plant
Architect
C.F. Møller Architects
Landscape
C.F. Møller Architects
Awards
BUILD Architecture Awards - Best Danish Office Complex Project. 2018
European Architecture Award, winner. 2017
Natural Stone Prize (Naturstensprisen). 2016
Winner Commercial WAN Award. 2015
Aarhus Municipality Architecture Award. 2015
The mixture of office buildings and outdoor spaces creates the impression that this is a town within a town. The complex, surrounded by canals and lakes on all four sides, forms the entrance to the new, urban district on the waterfront in Aarhus, Denmark.
The complex houses about 800 workplaces, plus showrooms, an auditorium, video and film studios, a large canteen and shared facilities for fashion shows and conferences. There is a three-storey underground car park with space for 450 cars and about 400 bicycle racks.
The façades are designed on two design principles: Reliefs in light natural stone frame deep window niches in the parallel north and south façades. By way of contrast, the east and west façades are simple, transparent glass façades framed with natural stone.
The office complex will use sea-water cooling and solar heating and is planned as a low energy class 2015 building, i.e. energy consumption will be 50% lower than the minimum requirements stated in the building regulations.
Gallery