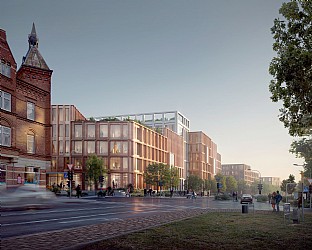 WoodHub, Government Office Hub, Odense
New office building that gathers several government agencies under one roof in the center of Odense is a pioneer project for sustainable timber construction and the largest timber building in Denmark.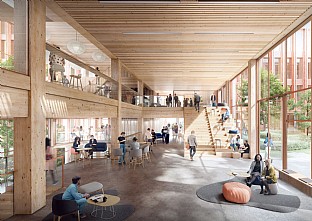 Facts
Size
36,500 m², including 5,500 m² basement
Competition
1st prize in architectural competition. 2021
Architect
C.F. Møller Architects
Landscape
C.F. Møller Architects
Awards
1st prize in architectural competition. 2021
The new office hub in Odense will gather 1,600 public employees in a sustainable, modern and optimal multi-user building that fits carefully into its surroundings. The spatial construction of the building sets a robust and flexible framework for variation between office workspaces and social meeting places. This means that the users may expand or reduce their varied facilities as required. In its basic structure the building consists of two staggered 'C' formed office wings facing east and west. The office wings extend from three to six floors and meet in a seven-storey joint building wing. The seven-storey joint building wing houses the main part of the entire building's meeting facilities in order to achieve an effective support of maximum knowledge sharing and inter-disciplinary communication between employees. The ground floor contains meeting center, canteen and public front-office functions and supports the urban life with public access to the inner garden space of the building, and niches and space for recreation along the building's outer façade. The building is highest towards the middle and recedes in steps towards the neighboring buildings. Thereby the building fits into its surroundings and it also ensures plenty of daylight and a good indoor climate. Roof terraces and raised courtyard gardens, as well as green and public courtyards, provide recreational oases and places for breaks and outdoor meetings – and moreover, it increases the biodiversity in the district.
Flagship project in sustainable timber constructions
With its 31,000 m² of solid timber constructions, the project is a flagship project in sustainable office buildings of this size in Denmark. Visible columns in solid timber and partially visible CLT floor constructions are used as load-bearing and recurring construction materials. This contributes to a CO₂ reduce of 5,400 tons over a 50-year life span as well as a sensuous architecture that will have a positive effect on the atmosphere in the building. The façades are made of recycled aluminum as a coherent outer composition in red-brown nuances matching the surrounding buildings' brick façades and thereby creating an honest, uncomplicated and refined expression.
Gallery