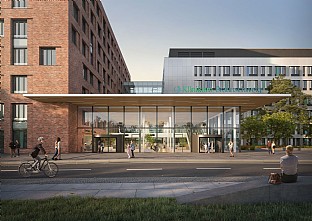 Städtisches Klinikum Braunschweig
The expansion and modernisation of the Städtisches Klinikum Braunschweig (Braunschweig Municipal Hospital) combines a new building, an extension and an already existing building in a new and remodelled complex.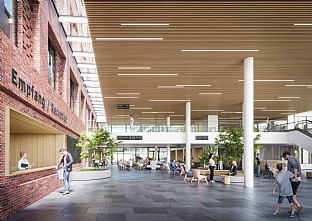 Facts
Client
Städtisches Klinikum Braunschweig GmbH
Address
Braunschweig, Germany
Size
86,700 m² allocated to 44,900 m² newbuild and 41,800 m² rebuild
Engineering
ArGe SBI/Klett Ingenieure, ahw-ingenieure, HHP-Nord-Ost
Architect
C.F. Møller Architects in collaboration with HENN
Collaborators, other
HT Hospitaltechnik, Müller BBM
Awards
1st prize in architectural competition. 2017
The complex, which is located on the Salzdahlumer Straße site in the south-east of the city, is organised around a public walkway that connects all of the functions and architectural structures. This interior street – also known as the "magistrale" (main thoroughfare) – interlocks co-equally with the existing hospital the new building and the extension. It serves as the main distribution conduit to the hospital cluster, running from the new entrance to the south on the Fichtengrund side road to the accident and emergency unit to the north. The magistrale acts as a "central spine", which with the help of natural lighting, views of greened interior garden courtyards and spacious circulation areas creates a proficient guidance system, enabling both patients and visitors to easily orientate themselves.
A new and elegant entry building, including an appended arrival area, forms a representative entrance, concluding the overall reorganisation of the building complex on Salzdahlumer Straße.
The now redesigned, newly built and reconfigured site pools functions from the city centre hospital premises (Holwedestraße), as well as absorbing capacities from the St.-Vinzenz-Krankenhaus (to the east of Braunschweig) that was already closed in late 2016. The current fourth site on Cellerstraße, in the north of the city, remains in operation, meaning that optimised dual-institution medical services are provided from the remaining two clusters to the north and south-east of the city centre.
Gallery