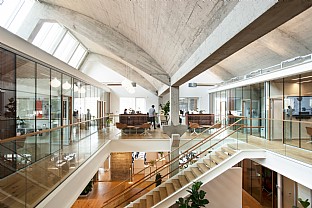 Business Headquarters in the Dalum Paper Factory
Transformation of an iconic concrete structure into a new business domicile, preserving its industrial heritage and revitalising it with a bright and dynamic office environment.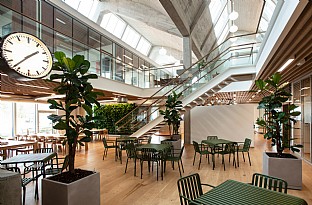 Facts
Address
DK-5250 Odense SV, Denmark
Architect
C.F. Møller Architects
Landscape
C.F. Møller Architects
The overall design strategy for AG Group's business domicile is to retain the industrial architecture, where both columns and grand arches in the ceiling of the building's iconic shed roof create a structural and sculptural high-ceilinged space, beautifully lit by large continuous skylight windows.
The business domicile is located in the original building of Dalum Paper factory by the stream in Odense, which was established in 1874 and operated until 2012 - and has had great industrial historical significance nationally and internationally. The business domicile is part of the master plan for the area of Dalum Paper factory, which transforms the historic industrial area into a new diverse district close to nature and Odense city.
The concrete of the original construction has been stripped and preserved in its original character - and is complemented by contrasting materials such as warm oak, walls in light nuances, and integrated green planting. A continuous brick wall, constructed with recycled bricks in warm red shades from the former paper factory, provides a textural backdrop to the office environment.
Transparency and views to surroundings
A simple roof structure has been inserted into the existing double-height concrete structure to create two stories in the commercial building. A central and open atrium connects the floors and draws daylight down to the ground floor, which is designed with an arrival area, lounge, and canteen facilities.
On the first floor, meeting rooms are located along the brick wall with open glass facades creating transparency towards the interior of the building. The shared space around the atrium and the central staircase allows for informal meetings between staff and guests. Office spaces are located along the window sections with views to the surrounding green environment.
Large windows make the building appear open and inviting in the area, which has a unique historical context and is close to both the city and nature.
Gallery