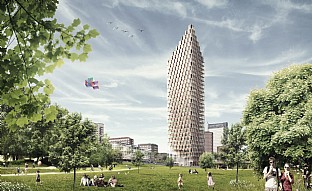 HSB 2023 - Västerbroplan
HSB Stockholm - Sweden's largest housing association - turns 100 years old in 2023. By then an innovative and sustainable apartment building will have been completed in Stockholm city.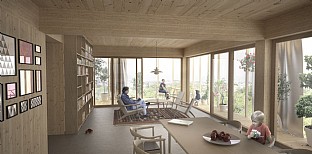 Facts
Competition
1st prize in architectural competition. 2013
Engineering
Tyréns, AKT II
Architect
C.F. Møller Architects in collaboration with Dinell Johansson
Landscape
C.F. Møller Architects in collaboration with Dinell Johansson
Collaborators, other
Transsolar, DeBrand
Awards
1st prize in architectural competition. 2013
For the Västerbroplan plot in the Marieberg district, C.F. Møller in collaboration with Dinell Johansson has drawn up plans for a 34-floor wooden apartment building. The building is designed around a wooden structure with stabilising concrete cores and will act as a new characteristic landmark and meeting place in the city.
Pillars and beams will be constructed using solid and CLT-timber and inside the apartments walls, ceilings and window frames will be made from wood, visible from the outside. Wood is the natural choice when it comes to materials for innovative residential development. It is an environmentally friendly and durable material which creates a comfortable and healthy indoor climate and you might be surprised to learn that the wooden structure also constitutes a very efficient form of protection against fire.
Both social and environmental sustainability have been considered, including the construction process and choice of materials, but also in terms of residents' lifestyle: The proposal includes a bicycle and car pool operated by the housing association and apartments with kitchen interiors specially designed to make recycling easy.
A continuous surrounding double-shell in the form of a winter-garden zone surrounds the building, and adds extra living space to the homes. The winter gardens' exterior glazing shelters the exposed timber structure, and acts as an energy-efficient thermal climate buffer zone. At street level there will be a café and a nursery and, in a new neighbourhood building, all residents in the area will be able to enjoy a marketplace, gym and bicycle storage location. A shared winter garden will make allotments possible.
Gallery