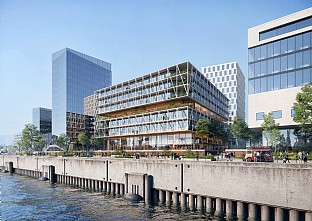 Baufeld 63 / Medical School Hamburg, Hafencity
Sustainable office building and university on the Elbe in Hamburg-Hafencity with a high degree of flexibility, which increases the possibilities for future adaptation and longevity.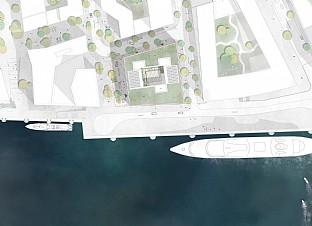 Facts
Competition
1st prize in international architectural competition. 2021
Client consultant
Drees & Sommer Witte Projektmanagement
Engineering
Werner Sobek (structural) Liebert (mechanical)
Architect
C.F. Møller Architects
Collaborators, other
Wackermann (Fire engineering) Die Fabrik (IT) EPEA (cradle-to-cradle)
Awards
1st prize in international architectural competition. 2021
Design and Functionality
The principle for the Medical School Hamburg is "design for disassembly". The building elements, which consist of a simple concrete skeleton, with cantilevered balconies in a grid structure and simple facade elements in wood and glass characterise the building visually. Further, the building elements can be easily disassembled, transformed, or replaced.
The upper floors of the building consist of offices, and the private university, Medical School Hamburg, is located on the lower floors. The university floors are connected by an inner staircase and culminate in a terrace facing the Elbe, designed for outdoor teaching. The staircase is a large wooden structure decoupled from the supporting concrete structure so that it can be easily disassembled for different uses of the building.
The staircase contains functions such as an auditorium, and platforms for meeting places and informal work areas. The wooden structure begins on the ground floor, which serves as a unifying and publicly accessible space that also includes a café, library, and flexible retail and exhibition spaces, all with panoramic views of the Elbe.
The sustainable architectural concept
The building's elements have been selected based on different lifespans, low resource consumption, recyclability, and local production.
The load-bearing frame is made of gradient concrete, a new type of lightweight concrete construction, which reduces resource consumption by 30-45%. The other prefabricated building elements in wood, steel, clay, and glass fiber reinforced concrete can be disassembled and reused as requirements change.
In combination with low-energy solutions, such as natural ventilation, good daylight conditions, and a self-shading facade design, the CO2 emissions are reduced by 42% and the building exceeds the requirements for the Hafencity Ecolabel-Platin category, which is the most ambitious sustainability certification in Germany.
Gallery