Competition for the restoration of legendary school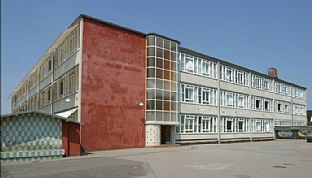 17.6.2016 | Skolen ved Sundet from 1938, designed by Kaj Gottlob, is to be renovated comperehensively. C.F. Møller has been prequalified for the competitive tender for the turnkey advisory project at the school, which is a listed building.
The City of Copenhagen and Byggeri København have launched the process for the comprehensive renovation and restoration of the legendary Kaj Gottlob-designed Skolen ved Sundet on Amager.

The school comprises the main school and "Friluftsskolen" (the outdoor school). The main school building is a lower secondary school, while Friluftsskolen is used as a special school, primarily for children with motor disabilities. The original buildings became listed in 1990 and this is why Byggeri København has requested turnkey advisers with significant restoration experience to submit tenders for the comprehensive renovation project.

While still in operation, the school will be renovated within six defined action areas: Interior and exterior restoration, energy renovation, indoor climate, accessibility, climate adjustment and modernisation.

On the school's site there are currently two buildings from 1993 and 1996, respectively, that are not listed, and which today house some of the school's after-school club activities and a nursery school. As part of the project, these buildings will be pulled down and replaced by a new building, which in future will house all of the school's after-school activities.

The Danish Agency for Culture and Palaces has approved the description of the preservation of Skolen ved Sundet, drawn up by Københavns Ejendomme. C.F. Møller is bidding for the project together with sub-adviser Eduard Troelsgaard Rådgivende Ingeniører. The other prequalified teams are fronted by turnkey advisers from BBP Arkitekter, H+ Arkitekter, Nøhr & Sigsgaard Arkitektfirma and RUBOW Arkitekter.