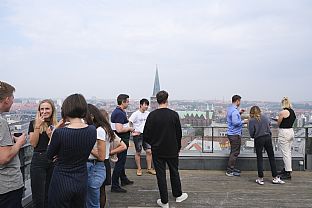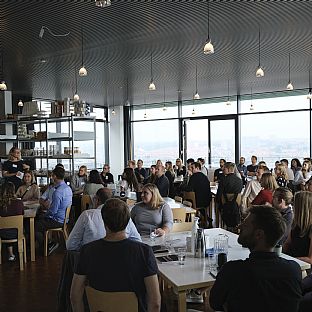 15.9.2021
Strong Relations, Inter-cultural Office Sprit and Sustainability: C.F. Møller Architects Facilitates Introduction Day for 70 New Employees
70 new employees and interns across branches were gathered in Aarhus for a big Introduction Day to build relations and be welcomed to C.F. Møller Architects, both by former interns as well as the CEO.
"It is great to feel the energy in the room when we are together again in real life, and experience how relations are built across branches and professional disciplines. This is one of the things that makes C.F. Møller Architects an innovative and fun place to work at," says Lone Bendorff, CEO and Partner at C.F. Møller Architects.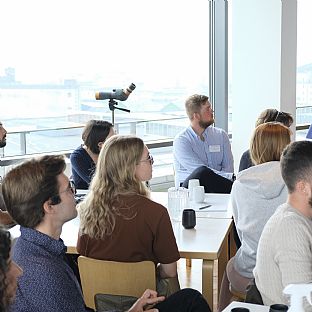 A united C.F. Møller Architects
The culture and the history were among the topics on the introduction programme. With more than 350 employees across branches in Denmark, Sweden, Norway, Germany and the United Kingdom, especially the culture has amazed Dylan Marshallsea, who joined the introduction day in Aarhus as he currently started working as an architect at C.F. Møller Architects in Berlin.
"After working for a similar sized architect company with multiple branches across the world, the inter-office collegiate spirit at C.F. Møller Architects has amazed me. I really feel a part of the whole.", says Dylan Marshallsea.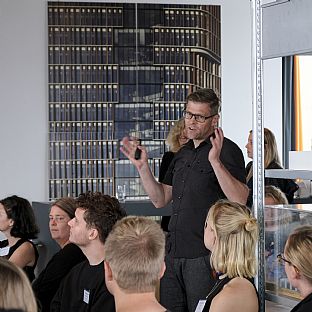 Yellow Bricks, Old Boys or Posh Projects
As a company with almost 100 years of experience and thousands of thousands of projects in the portfolio, the work of C.F. Møller Architects is not based on a particular style but on proven working methods with inputs from all levels in the organisation and collaborators.
"We sometimes meet the perception of C.F. Møller Architects as a company only doing high end and large-scale projects, and therefore seems unapproachable. Further, some also perceive us as an old boy's club with a conservative hierarchy who only knows how to build with yellow bricks. However, the fact is that we have a very flat organisation were we celebrate creativity and good ideas from everyone, and we work in every scale," says Architect and Partner at C.F. Møller Architects, Klaus Toustrup, who stated this point to the newcomers on the Introduction Day.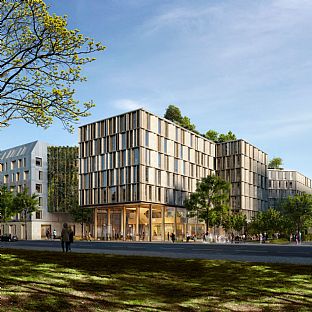 Sustainable Projects on the Introduction Programme
On the programme for the Introduction Day, sustainability was inevitable. The topic was introduced by Head of Sustainability, Rob Marsh, followed by Freda Jautz, who is a former intern at the Aarhus branch, now working as an architect at the Berlin branch. Freda Jautz unfolded the sustainability topic, and her experiences working across branches, by introducing a current project in Berlin, a timber-framed building build for The German Ministry of Environment (BMU).