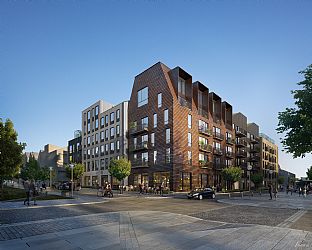 7.7.2020
Gråalen is rising in Norrtälje Harbour
A new neighbourhood with a focus on sustainability and the use of timber structure and facades is being constructed in Norrtälje Harbour.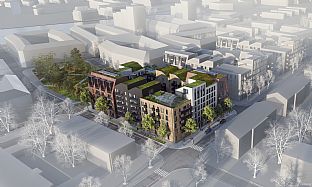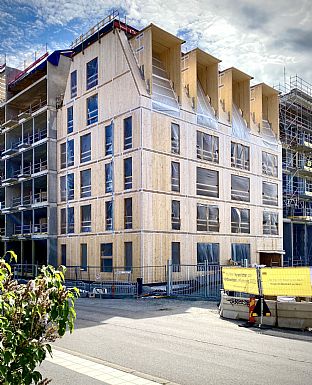 In Norrtälje, an hour northeast of Stockholm, C.F. Møller Architects designed the Gråalen neighbourhood, which is part of the development of Norrtälje harbour. The neighbourhood consists of around 140 homes spread amongst eight buildings, four of which have cross-laminated timber frames. The project includes a parking basement, a youth centre and adapted accommodation for people with disabilities. The neighbourhood is designed to welcome people and families at different stages of life, with a variety of lifestyles and backgrounds.
C.F. Møller Architects, Slättö Förvaltning and Norrtälje Municipality together support the decision to use timber as the main building material for the structure and facades. The decision is based on taking responsibility for the project's overall environmental impact and life cycle, which also includes production, operation and maintenance.
The neighbourhood has a varied design which becomes an extension and a modern interpretation of Norrtälje's historic centre, where there are many well-preserved older wooden houses.
"With the new Gråalen residential district we want to contribute inclusive architecture with beautiful details and vibrant public spaces, where the central concept is people's presence and their well-being," says architect Ola Jonsson.
Known for sustainability
C.F. Møller Architects are also behind Sweden's tallest wooden building, the Kajstaden Tall Timber Building in Västerås. All parts of the nine-storey building are made of cross-laminated timber, this includes the walls, joists and balconies, as well as lift and stairwell shafts. The practice is also known for the Copenhagen International School, whose facade is made up of 12,000 solar panels, making the school partly self-sufficient. Earlier this year, C.F. Møller Architects was the joint winner of the tender competition for the new offices of the German Ministry of Environment in Berlin, with a project which uses both timber in the structure, and integrated solar cells. In addition, the company is involved in working to create more sustainable construction methods through research projects in both Denmark and Sweden.
Gråalen is expected to be occupied during the first quarter of 2022.