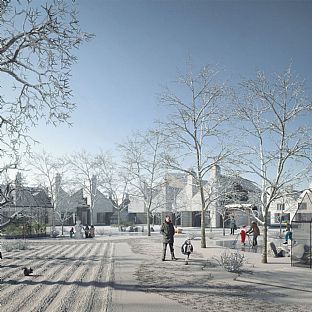 Re-imagining the Garden City is a 45-ha large masterplan, based on a re-imagination of the principles behind the Garden City Movement, emphasizing a sustainable and caring community.
World Landscape Architecture (WLA) Awards is an annual international award that seek to honour landscape architects around the world. The WLA Awards recognises the innovative work of professional landscape architects and students on the world stage providing extensive coverage on WLA and the WLA Awards magazine.
- We are delighted that our Masterplan proposal for the expansion of Letchworth Garden City has won at the 2020 World Landscape Architecture Awards. Our re-imagining of the traditional hamlet with a synergetic relationship to a wider productive landscape strategy, was recognised for its excellence in the Concept – Analysis & Planning category. I think this world-class endorsement of our design speaks volumes to the talent of our team, and I sincerely congratulate all who were involved, says Rolf Nielsen, Associate Partner, Architect MAA ARB RIBA.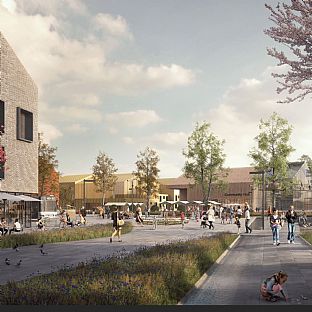 Socially and sustainable community
Letchworth Garden City is the original Garden City based on the principles developed by Ebenezer Howard and given form by the architects Berry Parker & Raymond Unwin. In the spirit of the original Garden City the proposal hopes to plant the seed for the social interaction that creates a healthy and socially sustainable community where people care for one another and for the landscape.
The masterplan is focused on a modern interpretation of the 'Hamlet' and is developed from the inside out, from the smallest residential scale to the larger hamlet scale. Landscape is a key catalyst for the masterplan and has informed all strategic design decisions and the framework of the new masterplan is built around links and synergies between productive, performance and amenity landscapes. A wild landscape surrounds the masterplan, providing shelter from noise and wind whilst enhancing the sense of enclosure and biodiversity. The new parkway takes advantage of the existing hedgerows and connects the site to Letchworth Garden City, providing different activities along the way.
Award winning urban planning
In addition to Re-imagining the Garden City, in Letchworth Garden City, UK, C.F. Møllers Architects department for Landscape & Urbanism is also working on the Laindon Centre, Essex, UK, for which they received the prestigious AR MIPIM Future Projects Award in 2018. The Laindon Centre is a mixed-use, regeneration masterplan that creates new residential neighbourhoods and re-establish a vibrant retail-led high street. The masterplan reconnects established neighbourhoods by re-imagining Laindon High Road as an active civic space lined with flexible retail spaces, commercial units, and cafes.
C.F. Møller Architects is currently working on landscape and urban projects in Denmark, Germany, Sweden, Belgium, Ireland, including the Climate Ribbon in Randers, Denmark, Gränby, Östra Sala Backe, in Uppsala, Sweden, and The New City, Oostende, Belgium.
Re-imagining the Garden City
The Laindon Centre
The Climate Ribbon
Gränby - Östra Sala Backe
The New City