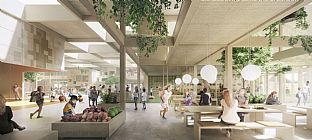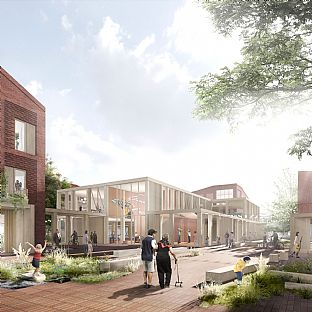 1.9.2021
C.F. Møller Architects, GPP architects, NERD architects and AFRY are chosen to design House of Generations in Nivå, Denmark.
The municipality's major investment in the future City Centre of Nivå, Denmark, including a brand new school, will be designed by a team consisting of C.F. Møller Architects (General Consultant), GPP architects, NERD architects and AFRY.
In the coming years, Fredensborg Municipality will invest up to ½ billion DKK to realise the vision for the future City Centre of Nivå. It is an immensely complex project that requires great professional expertise to implement. This expertise is offered by C.F. Møller Architects, who won the contract as general consultant for the House of Generations together with GPP Arkitekter, NERD Architects and AFRY.

"It is important to the City Council that the new city centre is realised in a way that meets as many of the citizens' wishes as possible. And the wishes must be integrated into an exciting architectural framework with maximum sustainability. We must have a Nivå city centre that is both seen as a great asset for the citizens of Nivå, but which also attracts people from outside the city. With this in mind, we have chosen C.F. Møller Architects, which has extensive experience with similar complex building projects both in Denmark and internationally, and which can also ensure a striking architecture," says Mayor of Nivå Thomas Lykke Pedersen.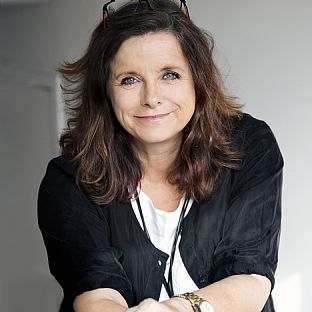 "It is with pride and great pleasure that we receive this exciting and important task of developing the House of Generations. It is a real dream assignment, where all our team skills come into play. We can contribute with coherent architectural solutions for the urban strategy, the learning environment, the sustainable and the perception of safety of the new area. Overall, this will give Nivå a new urban core and architectural identity. ", says Lone Wiggers, architect and partner at C.F. Møller Architects.

The House of Generations has a budget of DKK 470 million and includes a new school with sports center and youth club, a swimming pool, a care centre and renovation and extension of the library/cultural centre. The buildings are expected to be completed in mid-2025 and the swimming pool in 2026.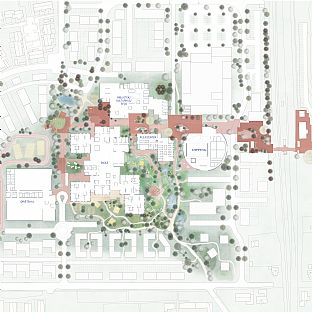 About the House of Generations in Nivå
The House of Generations expands the conventional use of a school building by integrating other public functions for all citizens and creating new identification points and opportunities for the centre of Nivå. The combination of various public functions in the House of Generations creates an all-day opportunity for lively exchange between citizens of all ages.

Anchored in city and landscape
The school's learning spaces are evenly distributed between the building and the landscape. There are outdoor areas for play and exercise as well as for science subjects and cooking. All these facilities are also available to other citizens. To ensure that all sides of the House of Generations are used, the buildings do not have front and back sides, and have entrances from all sides. The buildings take the form of a cluster with an open structure of squares, areas and paths connecting all the functions, and open towards both the city and the unspoilt nature, which is close to Nivå city centre, where the House of Generations is located.
To integrate the buildings into the city, they are partly made of brick, with reference to the existing buildings as well as to the disused brickworks that mark the history of Nivå. As a contrast and a change, transitions between outdoor areas and houses are executed in wood, which together with glazed, transparent ground floors create inviting and secure urban spaces.

Best proposal out of three
Out of a total of 16 teams that applied to be pre-qualified for the task, three were selected to hand in their proposal for a solution. The three shortlisted teams:

- C.F. Møller Denmark, with GPP Architects, NERD Architects and AFRY (Winner)
- Rambøll Denmark, with JJW Architects, COBE, and Learning Expert Malou Juelskjær and Lotte
Hviid Dhyrbye, Tænketanken Fremtidens Biblioteker, as consultants
- Tegnestuen Vandkunsten, with DOMINIA Consulting Engineers, RUM and Kragh & Berglund