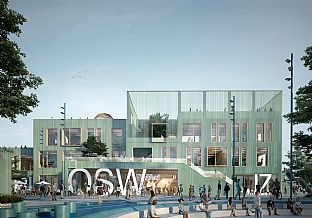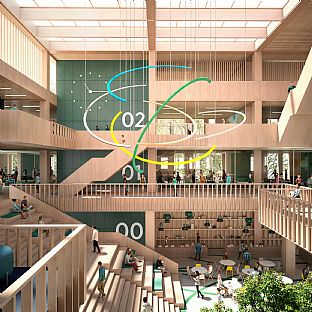 22.2.2022
OSW Open School sets New Standards for Learning Environments in Germany
C.F. Møller Architects wins competition with an architectural design that demonstrates a holistic structure for learning environments and open school buildings involving the local community.
The OSW Open School in the Waldau district in Kassel, sets a new standard for learning environments in German schools, by uniting nature and education in a flexible and sustainable multi-use landscape and building for the local community. A special focus has been on including community-oriented functions like library, youth centre, music rooms and workshops into the school building.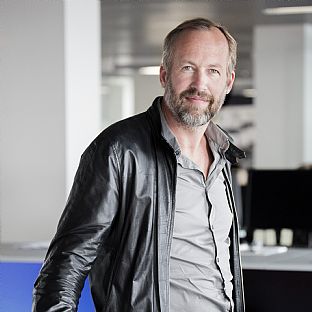 - We have focused on making a school building that serves as a new destination and a catalyst for bringing together the surrounding neighborhoods within the suburb of Waldau, Kassel, says Mads Mandrup, Partner at C.F. Møller Architects.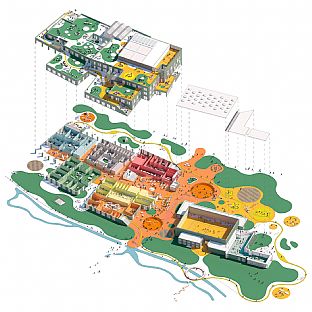 Shifts in the building's geometry create varied environments for teaching and activities inside and outside. Outdoor spaces are forming a campus that also invites the entire community to use the many zones for exercise and recreation. In this way, activities and teaching literally goes beyond the facades and support the conceptual teaching environment where children learn from each other through creativity integrated with nature.
Focusing on transparency and openness as a mixing zone for the public, the OSW Open School has clear passages on top and all the way through the building:

- For an open access to the community-oriented functions in the building, and to obtain an urban connection with the outdoor surroundings, we utilize an existing pathway in the area which we pull into the school's atrium. The urban connection is further strengthened by a staircase with wide steps that functions as an urban space with landscape views and hang-out areas. The design gives the impression of the school as a green learning hill, says Mads Mandrup, Partner at C.F. Møller Architects.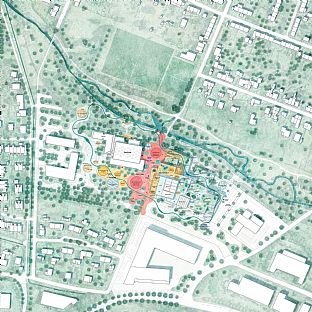 Sustainable and Future-proof Timber Hybrid Building
OSW Open School is based on the DGNB certification requirement with 6 project-specific themes: flexibility, indoor climate, healthy living, optimal operation, longevity, and dual function. These have inspired to design a flexible timber hybrid building with a minimum of load-bearing walls for and adaptable and future-proof design.
The hybrid wood construction with lightweight components shortens the construction time for load-bearing frames with 30-40% compared with conventional solutions. And the environmental impact of the material choice reduces the C02 emissions with 50% compared to conventional solutions.
- The project ambition is to demonstrate how architecture can pay a significant role in the development and strengthening of a local community – across generations and gender. Deep into the core of the design it reflects our values within social responsibility and environment by focusing on welfare for everyone, combined with sustainable solutions in both landscape and architecture, says Mads Mandrup, Partner at C.F. Møller Architects.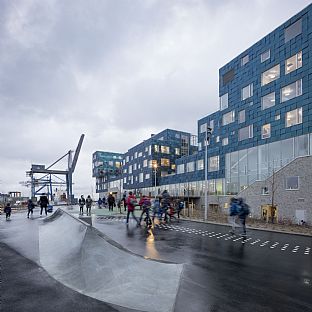 Leading in Architectural Welfare
C.F. Møller Architects has contributed significantly to the development of welfare societies in Scandinavia and the rest of the world since their founding in 1924. C.F. Møller Architects are continuously recognized and awarded internationally for setting new architectural standards, due to a strong focus on the functional, artistic, and social value of architecture.

C.F. Møller Architects is also currently working on Ny Islands Brygge School, and Horsens Gymnasium in Denmark, and Vega Skole in Sweden, and Glemmen Skole in Norway. Further, C.F. Møller Architects is behind award-winning learning environments like the Copenhagen International School, the International School Ikast-Brande, Denmark, and the A.P. Møller School in Schleswig.

In Germany, C.F. Møller is designing major projects like the Fernbahnhof Hamburg-Altona, the German Ministry of Environment, the i8 iCampus and MK7 in Munich, and Berlin Hyp Headquarter.

Second prize in the competition went to Schneider + Schuhmacher Planungsgesellschaft, and the third prize to h4a Gessert+Randecker Architekten.

C.F. Møller Architects is designing the OSW Open School in collaboration with Nordland Arkitekter and Wenzel + Wenzel.