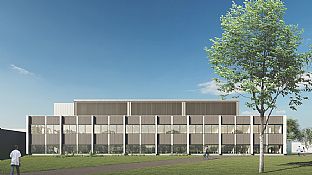 18.6.2021
The first shovel of soil was turned for Uppsala Business Park's new innovative lab environments – Research Hub
The first phase of developing Uppsala Business Park into a vibrant district for innovation and growth has now been commenced. On June 18th, the first shovel of soil was turned for the Research Hub – an advanced new laboratory building designed by C. F. Møller Architects for Klövern.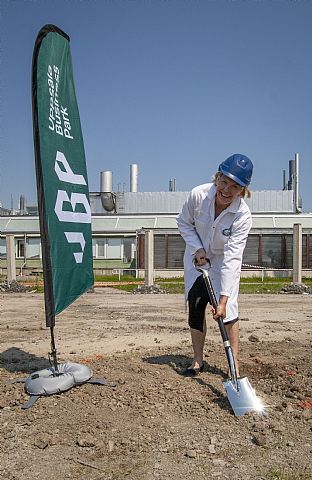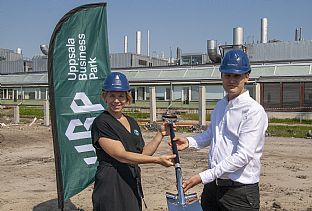 The Research Hub is a laboratory-premises concept aimed at small and medium-sized research companies. In terms of size and function the concept is highly flexible, and it can quickly be adapted to specific requirements. The goal is flexible solutions whereby companies can grow with the Research Hub and focus on their core business. The aim is for it to be easy to switch to both larger and smaller premises, but also to premises with another function, as changing requirements dictate.

 "We're excited to be involved in this day, and look forward to the continued collaboration with Klöven towards realisation of a flexible laboratory that can form a basis for future laboratory buildings in the park," says Vendela Martinac, associate partner at C.F. Møller Architects.
Uppsala Business Park will offer everything from individual rooms to large premises featuring offices and laboratories measuring 3,500 square metres. A total new area of 350,000 square metres is being created here. As well as a unique laboratory environment you will also gain access to the service offering available within Uppsala Business Park, e.g. reception, conference facility, restaurants and the Uppsala Business Park (UBP) Community.
"With today's first shovel of soil, Uppsala Business Park is taking its first step from successful business park to vibrant and accessible urban district for innovation and growth. We at Klövern are happy and excited to be contributing to the development of one of Europe's most important life-science hubs," says Peeter Kinnunen, Acting CEO, Klövern.
Uppsala Business Park
Uppsala Business Park in Fyrislund is a large-scale urban development project for innovation and growth whose objective is to attract companies and talent in the region, both nationally and internationally. The new district covers an area of one kilometre in diameter, and will include offices, laboratory environments, production premises, various types of service facility, trade, restaurants, training premises, hotels and a large training facility. When fully built the new district will create the conditions for 15,000 jobs, 1,500 students and 3 million visitors a year. A total new area of 350,000 square metres is being created here.
C.F. Møller Architects is one of the world's leading architectural offices specialising in healthcare and laboratory buildings and has received several awards for this work. The company is known for Biomedicum in Stockholm, the Maersk Tower in Copenhagen and the Darwin Centre in London, and is currently working on a number of healthcare projects in Sweden, Germany, Denmark and Finland.
About Klövern
Klövern is a property company that with the benefit of its proximity and commitment offers attractive premises in growth regions. Klövern is listed on Nasdaq Stockholm.
Gallery