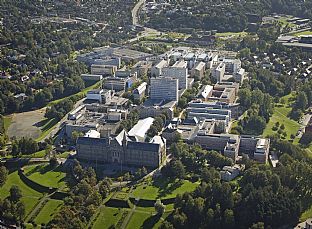 13.7.2020
C.F. Møller Architects and Rambøll win large campus assignment in Norway
The Norwegian University of Science and Technology (NTNU) will come together on a new campus in Trondheim, and C.F. Møller Architects and Rambøll won the task of developing the new campus together
By 2029, NTNU's academic environments spread over Trondheim will come together as one suburban campus in the area around Gløshaugen in Trondheim.
The goal is to lower the threshold for study, research, innovation and communication across traditional disciplines and create a basis for higher quality in education, research and communication. The overall goal is to create a robust and flexible infrastructure that strengthens interdisciplinarity and creates opportunities for good synergies.
The development of Campus NTNU is divided into two phases, and a consortium consisting of C.F. Møller Architects and Rambøll Norway (architects and engineers) won the first phase of the development, which includes scheduling and project design services as well as an option for parts of phase two, which comprises the detailed design of up to 70,000 m² of construction.

Project team with long and broad experience
"Our ambition is to translate Statsbygg and NTNU's outlined assembly plan into architecture that supports lively study and interdisciplinary innovative research environments with an outward-looking agenda, with the clear goal that NTNU becomes a vibrant and future-proof university hub in dialogue with Trondheim and able to position NTNU further internationally as one of the Nordic region's foremost technical and scientific universities," says Mads Mandrup Hansen, partner and architect at C.F. Møller Architects.
"We are extremely happy to land this important and high-profile project. NTNU is probably the largest project in Trøndelag after the expansion of St. Olavs Hospital, and we note with great satisfaction that Rambøll's breadth and capacity as well as core competencies within large and complex projects have been decisive. We have a joint project team with main deliveries from Rambøll and C.F. Møller Architects, with partners who have a long history of good collaboration, both globally and locally," says Bjørn Tore Landsem, director of construction and architecture at Rambøll Norway.
The NTNU Campus project is funded by the Norwegian government as a state construction project. The project is the largest in NTNU's overall project portfolio for campus development.
Statsbygg is responsible for building up to 92,000 m² and rebuilding up to 45,000 m² of university buildings to make it possible to bring together NTNU in Trondheim over the next ten years.
"Rambøll and C.F. Møller Architects' team met all our qualification requirements, and we look forward to starting the process up in collaboration with NTNU," says client director and project manager Marius Tunstad in Statsbygg.
The new campus
The physical infrastructure is one of the instruments that affects how the university's core tasks can be exercised and developed. With its campus development, NTNU creates a basis for NTNU's core tasks within education and learning environments, research, art, innovation and communication. The further development of NTNU's campus is thus a tool to support academic ambitions and desires for strategic direction.
A well-planned and designed campus creates the basis for more collaboration and additional and better opportunities to combine knowledge and subjects as well as better communication between students and researchers and between academia, business and the local community.
The bringing together of NTNU's campus in Trondheim is an important driver in campus development, as it includes an investment worth billions from the state and must be completed within a limited period of time.
Experience with campus development
C.F. Møller Architects has extensive experience in the development of campuses and research and teaching institutions in Europe and the Nordic countries. The architectural firm is behind projects including Mærsk Tårnet (Mærsk Tower), a research and teaching complex for the University of Copenhagen, Biomedicum, a research powerhouse in Stockholm for Karolinska Institutet and the development of a campus for Copenhagen Business School and Heidelberg University in Germany.
About NTNU
NTNU (Norwegian University of Science and Technology) is an internationally-oriented university with headquarters in Trondheim and campuses in Gjøvik and Ålesund.
NTNU has a technical-scientific profile, a number of professional education courses and a major academic breadth, which also includes the humanities, social sciences, economics, medicine, health sciences, architecture, entrepreneurship, arts and artistic enterprise.
The design team consists of C.F. Møller Architects and Rambøll Norway (architects and consultants) and the following subcontracted consultants:

• Fabel Arkitekter (NO)
• Oslo Works (NO)
• Mtre (DK)
• Rolvung & Brøndsted Arkitekter (DK)
• Aas-Jacobsen (NO)

Budget: NOK 9 billion.
Work is expected to begin in August 2020.
Statsbygg received a total of seven bids in the tender competition for the task.