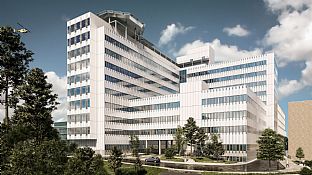 19.11.2020
Green light for the new ward at Danderyd Hospital
Construction of the new ward at Danderyd Hospital designed by C.F. Møller Architects in collaboration with Carlstedt Arkitekter begins. The building will accommodate wards, receptions, and a rooftop helipad.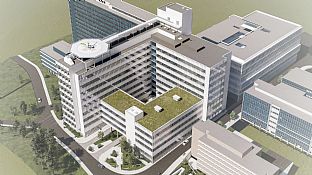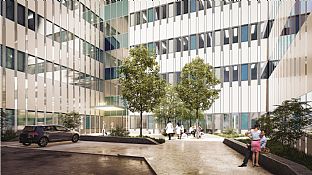 On Tuesday the 17th of November, the expansion of Danderyd Hospital in Stockholm was given the green light by the Regional Council, and construction could begin. C.F. Møller Architects has been commissioned by Locum to design one of the new wards, which will be built directly west of the new emergency unit with a total approximate area of 34,000 square metres. The 14-storey building will accommodate at least 164 patients, receptions, support functions and a new helipad. The building will be linked to the new emergency unit and will facilitate the flow between the two buildings.
"We are pleased to have been assigned this assignment and look forward to undertaking its construction in collaboration with Locum and Carlstedt Arkitekter" says Vendela Martinac, Office Manager and Architect at C.F. Møller Architects.
Efficiency with a human scale
The form of the new care building means that the visitor will be met by a human scale, as the entrance is located in the lower parts of the building facing toward the park. The structure of the façade is rational and clear. Similar to the characteristic architecture of Danderyd Hospital. The volume of the building has been optimised to enable great views from the ward levels. It has been important to ensure fluid circulation, and easy access to transportation from the lower reception level.
The new building enables reception and inpatient care activities to meet current government requirements, application of modern working methods, and performance of patient-safe care, while simultaneously enhancing the efficiency of care.
"We have used our experience from similar projects in the Nordic countries, England and Germany, and our expertise in Healing Architecture and efficient and complex wards in the design process," says Vendela Martinac.
Work is expected to be completed in 2025 when Danderydhospital AB takes over the building.