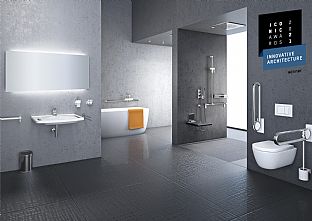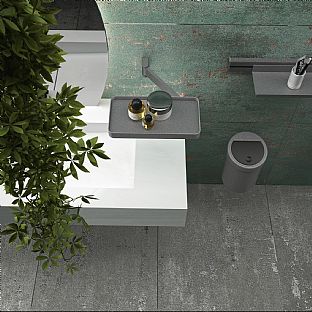 28.9.2021
C.F. Møller Architects and Normbau Win an Iconic Award 2021
C.F. Møller Architects and Normbau in collaboration win an Iconic Award 2021 in the category Product – Sanitation with Flexcare – an all-new expansion of the Cavere Care line which offers comfort and flexibility in all situations.
The Cavere Care line, produced by Normbau and designed by C.F. Møller Architects, offers safe stability and a stylish look to any bathroom. Smooth, flowing radii underline the universal and understated design vocabulary and fuse perfectly with different design concepts. The line includes everything from specific aids, such as a bath chair and handrails, to the ordinary features of any bathroom, such as a soap dish, toothbrush holder and toilet brush. Glass shelves, towel hooks and a wall-mounted folding seat are just some examples of articles in the Cavere line.
A winning addition
The newest addition to the line is named Flexcare marks its relevance and high quality by winning an Iconic Award 2021 shortly after its launch in the spring 2021. The addition accentuates the bathroom series' premium character and offers added convenience and flexibility. It also serves as a wonderful enhancement to existing installations. The foundation of the series is comprised of the FlexRail wall rails. The rails, with their soft-edge radii, serve as a storage system for a wide range of useful accessories, offering flexibility when it comes to freely mounting and rearranging them. Accessories include a Flex soap dispenser, Flex soap/utensil bowl, Flex walking aid holder, Flex towel holder and Flex trays.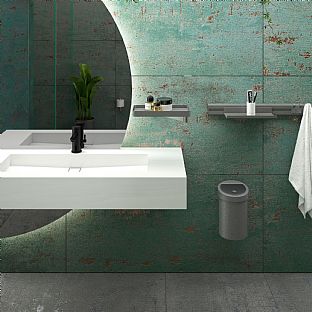 Always easily accessible: Swivel FlexTray
A key feature of the FlexCare rail system is the Cavere FlexTray. It consists of a tray which is mounted onto an articulated swivel bracket. The tray can be moved in a radius of 180 degrees and has a wide swivel axis of 600 mm. The tray overlaps the articulated bracket when you retract it, making it virtually invisible. Thanks to its load capacity of 8 kg, it can easily hold everything you need for your daily bathroom care ritual and keeps them within comfortable reach.
Classically stylish: trend colours for every bathroom
The shimmering, haptically pleasing surfaces emphasize the series' elegant design. The environmentally friendly powder coating ensures long-lasting durability and makes cleaning easy. Customers can choose between the five trend colours Cavere white, satin beige, metallic silver, metallic anthracite, and carbon black, all of which harmonize with various styles of furnishings.

About Iconic Awards
Visionary architecture. Innovative products. Sustainable communication. The ICONIC AWARDS: Innovative Architecture honour the best of the best. Our internationally respected, impartial design and architecture competition honours holistic projects in the fields of architecture, interior architecture, product design and brand communication.