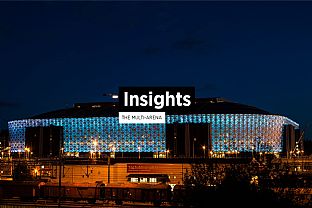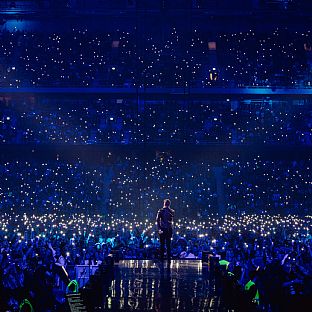 3.11.2022
Insights: The multi-arena of the future is flexible, sustainable, and constantly relevant
The modern arena must be identity-bearing, a driver of urban development and support both sport and culture through intense experiences, flexibility, and daily relevance for its surroundings.
C.F. Møller Architects is behind a number of striking arenas that are of great importance locally for their cities and immediate surroundings, but also nationally as places that host significant sporting and cultural events and are a common point of reference. A good arena is characterised by containing a number of complex solutions that are created through a series of methodological questions.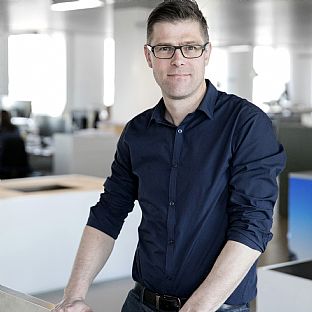 "Firstly, it is important to identify what exactly the arena should be able to do; multi-functionality, sports, cultural events and not least, what the primary function should be. The answer has a major impact on the design, which must support the audience experience itself and the commercial opportunities, both of which are about being close to the event and creating an intense experience," explains Klaus Toustrup, partner and architect at C.F. Møller Architects, and elaborates,

"A running track around a football pitch, for example, means that the audience will sit a little further away from the game, but in return it creates the possibility of also holding athletics events. A key question is also whether the arena should be covered to accommodate concerts and the like all year round. It is important to clarify this from the very start since this will have an impact on the sound for concerts, for example. On the other hand, it is difficult to keep a pitch in top condition in a covered stadium. A multifunctional arena typically also has more seats behind the football goal in one end to ensure good conditions for concertgoers and increase the number of concert seats while also creating more seats behind the goal for the home team's fans."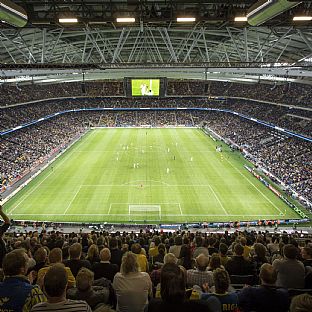 Multi-functionality in Stockholm
In Sweden, C.F. Møller is behind the Friends Arena in Stockholm, which is the national stadium for Sweden's national football team and the home ground of local football team AIK. Friends Arena is designed as a multi-functional arena with capacity for 53,000 football spectators and 75,000 concertgoers. It was the host for the 2017 Europa League final, where Manchester United beat Ajax 2-0, and has hosted concerts with international stars from Celine Dion to Ozzy Osbourne. It's also possible to hold smaller events, as Friends Arena can be divided into sections and still ensure a good view from every seat.

"Friends Arena was designed from the outset to be multifunctional. This can be seen, for example, in the large roof, which can be opened in 15 minutes and quickly change the character of the arena, so that for football matches, for example, it is experienced as a dedicated open air football stadium. This function also makes it easier to keep the pitch in good condition. At the same time, there is a focus on concert seats with good sound and a good view of the stage. The number of concert seats is also optimised to support a good concert economy. Friends Arena's multifunctionality is also seen in an easy access to the stadium for stagehands and how it provides the facilities the world's biggest stars require to stage their spectacular and equipment-heavy stage shows," says Mårten Leringe, partner and architect at C.F. Møller Architects.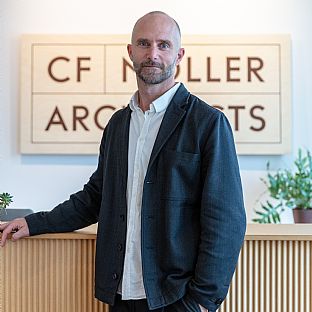 Modernisation for the present
Although arenas are designed to be multifunctional from the outset, it can be difficult to predict future needs at every stage. Right now, C.F. Møller is in the process of thoroughly modernising the Avicii Arena, popularly known as Globen, in Stockholm, as well as the surrounding arenas Annexet, Hovet and Tele2 Arena into a modern and coherent events area. With a diameter of 110 metres and 85 metres to the ceiling, the Avicii Arena is the world's largest globe-shaped building. Inaugurated in 1989, the Globe is part of a complex that includes a hotel, office building, car park, park and shopping centre. It has hosted events ranging from ice hockey finals to the Eurovision Song Contest. The attendance record is held by Metallica, which had 16,531 concertgoers in 2009.
"We are adapting the Globe to make it even more flexible and able to handle both more spectators and more different sports and cultural events. We're creating a better flow for spectators, making it easier for everyone to find their way around, and making it quicker to make changes between events. In addition, we are creating a sustainable solution by strengthening the integration of the arenas in the surrounding area to enhance the experience of an urban integrated arena complex that both commercially and socially contributes to its surroundings and strengthens the identity of the area," says Mårten Leringe.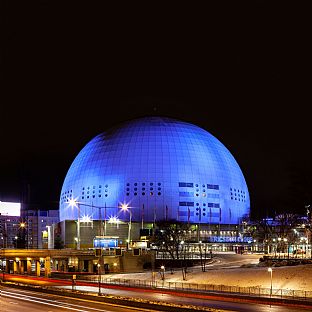 National landmarks
The Globe has become a powerful landmark for Stockholm, with its circular silhouette clearly visible in the streets and from the air. Similarly, Bislett Stadium in Oslo is also a landmark for both the city and Norway. Bislett Stadium is particularly well known for athletics events such as the Bislett Games and the Diamond League, and more than 50 world records have been set at this stadium. It is architecturally distinguished by the way it fits into the city. Spectators can look out to the city and the city can look in on the stadium. The materials and architecture reflect the city's, so it is perfectly integrated with its surroundings.

"It's more important than ever to think of a stadium in terms of its surroundings. This can be in relation to nature and green areas, if the arena is located a little outside the city. In relation to the city-integrated arena, it is important to think of urban life, edge zones and spaces for shops and restaurants in the design, so that the stadium has relevance when there are no matches and concerts. Basically, it's about creating an arena that makes spectators want to stay there before, during and after a match or event and ensuring that the stadium is alive during everyday life outside the big events," says Klaus Toustrup.

A good example of this is found in the centre of Copenhagen, where Denmark's national stadium is located, and which C.F. Møller has expanded and transformed into a modern stadium for concerts and sports events. It is home to the Danish national football team and local football club FCK, and has hosted performances by the Rolling Stones, Madonna and Lady Gaga. The stadium complex also houses offices, cafés, a Michelin three-star restaurant, a private hospital and much more. This ensures a vibrant stadium area which is well used day-to-day between major events.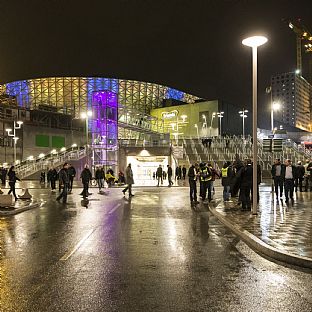 Focus on a good experience
An essential element of the modern arena is safety and a focus on a good experience for the individual spectator. The solution lies in successful infrastructure.

"It is important to focus on how spectators and crew get in and out of the stadium. Both to create the best experience, but also to create the safest environment and be able to get in and out quickly. This is done, for example, by subdividing the spectator area into smaller sections and having many entrances and exits so that bottlenecks cannot occur. It also requires good signage and an intuitive layout so that everyone knows where to go if the stadium needs to be cleared quickly. Just as important, of course, is that the stadium is designed to withstand large crowds of enthusiastic fans. In addition, we all want to avoid queuing for toilets, bars etc. and have a good, safe and smooth spectator experience. This is one of the things we are creating in our modernisation of Avicii Arena," says Mårten Leringe.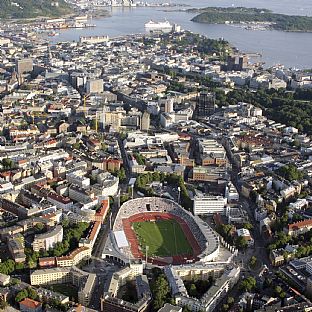 The sustainable stadium
Daily and varied use makes demands on a sustainable building - both in terms of operation and maintenance and the construction itself.

"At C.F. Møller, we generally focus on creating sustainable buildings, for example we work with wood as a construction material, which is CO2-saving, and we make LCA (Life-cycle Assessment) analyses to minimise the total energy footprint in relation to production and operation. It's also about making the most of a stadium's roof surfaces and collecting rainwater, which can be used to irrigate the pitch, for example, but also ensuring good conditions for daily users, including good daylight conditions. Working with sustainability and well-being is an integral part of our work, and we have developed our own internal programmes and methods that create optimal results and savings in the design phase itself," says Klaus Toustrup.

The design of the arena of the future thus requires experience, good and proven methods in combination with visionary ideas, architectural expertise and the use of the latest technology to create a sustainable arena that solves a number of tasks and at the same time has an aesthetic expression that will last far into the future.

In addition to Parken in Copenhagen, Bislett Stadium in Oslo, and Avicii Arena and Friends Arena in Stockholm, C.F. Møller is also behind Eleda Stadium in Malmö, Sweden, and Randers Stadium in Denmark. The latter two are smaller stadiums for football only and focus on the intense football experience.