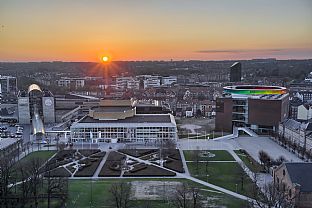 28.9.2022
Team lead by C.F. Møller Architects selected to hand in proposal for important urban space in Aarhus
C.F. Møller Architects, together with the artists' collective SUPERFLEX and MOONN, have been prequalified for the competition to redesign and revitalise the Concert Hall Park in Aarhus.
18 teams applied to be considered for the important development of the Concert Hall Park in Aarhus. Six teams have been prequalified and will work on a specific proposal for the park. The Concert Hall Park of the future is one of Aarhus Municipality's strategically important urban space projects. Based on a combination of urban nature, culture, art, and communities, the park will create an ambitious and vibrant green urban park of international class, centrally located in Aarhus city centre. The steering committee for the project consists of representatives from Aarhus Municipality, ARoS Art Museum, and The Philantropic Association Realdania, which has pre-qualified six applicants to participate in the architectural competition, and C.F. Møller Architects with SUPERFLEX and MOONN are among the shortlisted.
The Concert Halls Park will be transformed in connection with the extension of ARoS Art Museum and The Next Level, a new underground gallery.

The extension of ARoS Art Museum, which is already under way, extends into the Concert Hall Park. The City Council has therefore decided that the park should be transformed at the same time as the extension of the art museum, so that both parts will be finished in 2025.

This spring, the Municipal Department of Culture and Citizen Services carried out a considerable citizen involvement process, where more than 5,000 citizens came up with ideas and inspiration for the future Concert Hall Park. Their inputs will now feed into the architects' work.
In the first phase of the architectural competition, the six teams of architects will come up with an overall idea and a main design. In January 2023, the judging committee for the Concert Hall will select the proposals that will move on to the next phase of the competition. The proposals will then be made public, and citizens will have the opportunity to comment. Citizens will also be invited to provide inputs on the final proposals that will be developed in the second phase of the competition. The final winning proposal will be selected in 2023.

The total budget is expected to be DKK 44.5 million (€ 6 million). Realdania is supporting the transformation of the Concert Hall Park with DKK 16.3 million (€ 2.2 million).

C.F. Møller Architects, headquartered in Aarhus, has a local knowledge of the area., They architectural company is also behind the expansion of the Concert Hall from 2008, andthe design of two new bars, a new ticket office, and a new foyer. C.F. Møller Architects has previous experience with designing parks and urban spaces that create cohesion and new value for cities and citizens in several cities in Scandinavia.

The six teams of architects are:
C.F. Møller Architects, sub-consultant SUPERFLEX and MOONN
Schønherr, sub-consultant HABITATS and Morten Stræde
STED By og Landskab, sub-consultant Gjøde and Partners Architects and AFRY
Cobe, sub-consultant MOE and Vildskab
DETBLÅ
Inside Outside, sub-consultant SLETH, EKJ Consulting Engineers