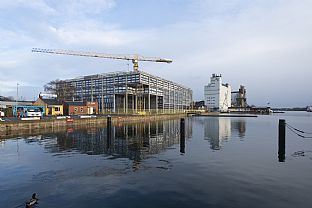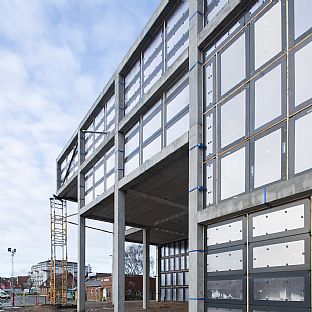 7.1.2022
The new SIMAC rises in Svendborg
The new SIMAC (Svendborg International Maritime Academy) will be Denmark's largest maritime education institution, and the building is now starting to take shape in the Port of Svendborg.
The ambition is that the new SIMAC, with its flexible framework and use of its location by the port, will be both a beacon for modern education and the transformation from pure industry to a new living district with education, business and recreational areas.

The new SIMAC is integrated into the course of the harbour promenade and the surrounding urban spaces. The building's floor plan is designed as a cross that forms a corner to four squares, and opens up allowing public access to the communal facilities. The quay itself becomes an outdoor laboratory that highlights the school's work and maritime virtues.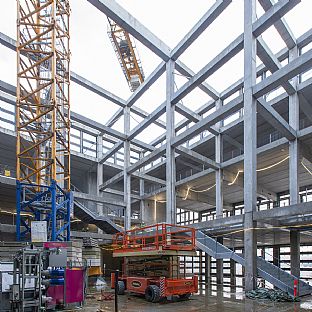 Focus on flexibility and durability
The architectural design is based on a modular construction grid that maximises openness and flexibility in the physical framework of education. The construction is flexible because it allows for reconfiguration of the layouts for workshops and teaching rooms, without disturbing the load-bearing structure and logistics. The design provides a good spatial range, which can function for both larger classrooms as well as workshops, but can also be subdivided into smaller units for offices.
In the centre of the building is an atrium that connects the building both visually and logistically across floors. Around the atrium, there are four double-height spaces that mark both the interior and exterior of the façade towards the city and the harbour and contain central functions such as a canteen, auditoria, and special workshops.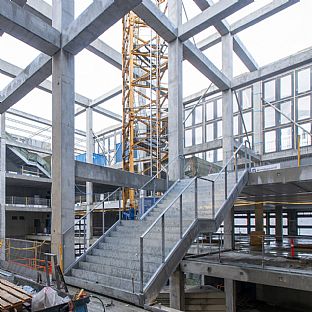 A staircase in the building follows these spaces, culminating on a communal roof terrace with views of the harbour, Svendborg Sund and the city. The ground floor, the tall spaces, the atrium and the roof terrace together form the building's social infrastructure, which makes it easy to find your way in the building and becomes a meeting place for the many different activities in the building.
The interior walls between the atrium and the teaching rooms have sections of glass to ensure visibility and dialogue. Overall, the building has a simple and honest expression based on functionality and utilisation.
The new SIMAC is expected to be completed for inauguration in 2023 and will accommodate approximately 900 students training to become captains, ship officers and engineers.

C.F. Møller Architects and EFFEKT have in collaboration designed both the new SIMAC and a masterplan for the development of the surrounding port area, as the winning proposal in an architectural competition held in 2019 by the SMUC (Svendborg Maritime Uddannelsescenter) Foundation, who is behind The new SIMAC with support from the A.P. Møller Fonden. Engineering: Moe. Construction: MT Højgaard.