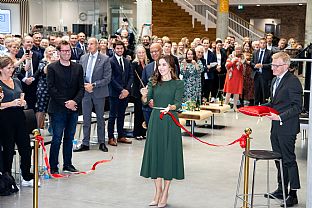 24.9.2021
HRH Crown Princess Mary inaugurates Via University College Horsens
Via University College Horsens, designed by C.F. Møller Architects, unites learning, business and urban life in a sustainable building that stands as a landmark for the future city of knowledge , and was officially inaugurated by HRH Crown Princess Mary on Friday 24 September.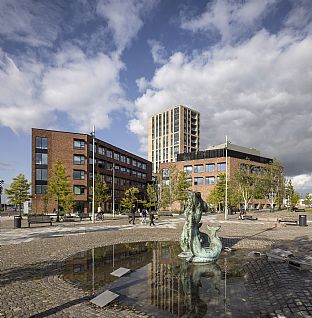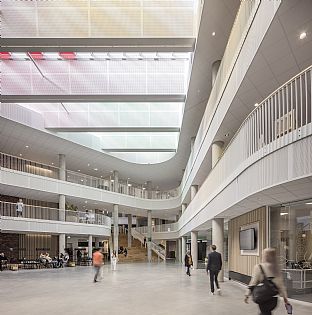 Early September 2021, Via University College Horsens was ready to welcome the first students, and the building is now officially inaugurated. The inauguration was attended by HRH Crown Princess Mary. After speeches by Rector Harald Mikkelsen, Minister of Education and Research Jesper Petersen and partner and architect Michael Kruse from C.F. Møller, HRH Crown Princess Mary cut the red ribbon and declared Via University College Horsens open.
VIA's Rector, Harald Mikkelsen, was the emcee for the day and emphasised that Campus Horsens had been created in close cooperation over several years, and that the result had been 'absolutely top notch' for the students, staff, and everyone else who comes to the building.

- I can reveal that the architectural firm that designed this campus also designed my first higher education institution - Aarhus University - which is something of an icon in the campus genre. It is a good choice to bring C.F. Møller to Horsens. A signal they know to deliver is the signal of quality. There is a good energy in this building, said Minister of Education and Research Jesper Petersen.
A unifying construction
VIA University College Horsens is an open and unifying shared learning and knowledge environment that is directly integrated with the city and the landscape, creating connections and relationships between students, employees, the business community, and the city's citizens.

- We are very happy and proud of the project, which we can already see has a great impact on both students, staff, and the citizens of the city. The idea is to bring together and unite knowledge, architecture and art in an urban and landscape relationship, and promote sustainable urban development based on learning and innovation, says Michael Kruse, partner and architect at C.F. Møller Architects.

A bright slender 16-storey tower and three atrium buildings are united through a central inner shared atrium space, bringing together 27 education programmes and 2,900 students, businesses, and citizens of the city. The external geometry of the buildings is carefully attuned to the location and the city, creating new exterior urban spaces. Each atrium building represents its own disciplines and programmes. The building's interior appears organic and rounded to support a vibrant and friendly environment. There are niches, atrium staircases, and hotspots along balconies, combined with open group spaces and hubs. The lower floors are designed to support activity-based learning and knowledge sharing, and the upper floors for contemplation..
- I am probably Denmark's happiest and proudest mayor and chairman. With this new campus, Horsens is a very good example of good and attractive educational environments outside Denmark's largest cities. It is really great to see how much life the central location of the new campus has created in the city", said Peter Sørensen, chairman of VIA's board, in his speech, who emphasised that it is something special to have an education centre where engineers are trained alongside teachers, nurses and many other professions, and where young people are equipped with interdisciplinary skills.
In collaboration with French artist Daniel Buren, C.F. Møller Architects has created building-integrated art. The art can be seen in a large work at the Innovation House, the auditorium and in the atrium's glass ceiling, where coloured glass creates a work that unites students, space, and light.
"I think it's been amazing to be part of the inauguration. Campus Horsens is a symbol of what we are so good at in Denmark - excellent collaboration. With Campus Horsens, the best framework has been created for the students and education of the future and for developing answers to the challenges of the future," said HRH Crown Princess Mary.
Durable and sustainable
The building is characterised by selected fabric and durable materials such as bricks in red and golden shades, oak with a warm glow, textiles in a few warm colours and light and cut-outs in atria with skylights.
Via University College Horsens is designed as a compact building with a focus on sustainability in terms of energy optimisation, minimisation of building materials, low running costs, and a good indoor climate with optimised daylight conditions. The design results in short technical supplies and a smaller facade area, which reduces the need for temperature regulation as well as the volume of building materials. There are few stabilising walls and integrated diffuse ventilation makes the buildings flexible and robust for future adaptations.

The building is part of Campus Horsens, which is also designed by C.F. Møller Architects.
Via University College Horsens combines education, business, and entrepreneurship with recreational opportunities for the city's citizens. Developer: CASA, Architect: C.F. Møller Architects, Engineer: Rambøll, Art Strategy: Creator Projects. Users: Via University College, Insero and city residents.
Press Release Via University College (Da)
Project Description

Gallery