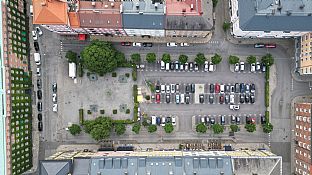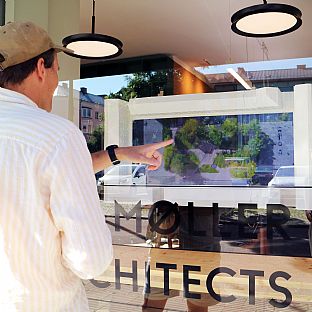 6.9.2023
Interactive Exhibition: The Future of the Swedish Square Davidshallstorg
As part of the Malmö in the Making initiative, C.F. Møller Architects has developed an interactive platform where the residents of Malmö have the opportunity to have their ideas visualized in photorealistic images of the future Davidshallstorg. All proposals will be presented in an exhibition that can be followed throughout September.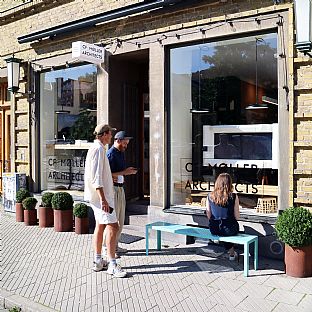 Davidshallstorg, home to C.F. Møller's Malmö office, is undergoing an exciting transformation and is planned to become a car-free space from 2026. The square is located in the heart of Malmö's city center, just a stone's throw from the well-known main street, Södra Förstadsgatan. The area is characterized by beautiful turn-of-the-century buildings from the early 1900s and has a historical connection to the former industrial area of Kockums. Discussions have long been ongoing on how to make the square more attractive by removing car traffic and parking spaces.

In conjunction with Malmö in the Making, C.F. Møller Architects has developed an innovative platform that allows all Malmö residents to explore their ideas for Davidshallstorg using photorealistic images. This platform enables users to describe their proposals in text, and through the use of generative AI, unique images are created that reflect their visions. All proposals and images will be part of an interactive exhibition displayed on the website (www.framtidensdavidshallstorg.se) and projected onto a physical model in the shop window at C.F. Møller on Davidshallstorg throughout September.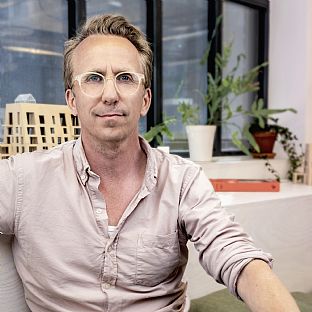 "This platform is designed as a democratic tool to make every voice visible as we collectively shape the city's development in architecture and culture. It aims to promote inclusive citizen dialogue with a diversity of perspectives that reflect all the city's residents. The purpose of the ongoing exhibition is also to showcase the possibilities of the tool, which can also be used for other urban development projects or other inclusive assignments such as tenant customization, landscape design, and much more," says Ola Jonsson, partner and architect at C.F. Møller Architects.
After Malmö in the Making and the exhibition, all generated proposals will be handed over to the City of Malmö. The exhibition opens in conjunction with the Open Architecture Studio on September 6th, and the Malmö office welcomes visitors between 3 PM and 7 PM during an open house.
_____________________________

The platform has been developed in close collaboration with Formalia, an independent text and design agency, and Studio Ålund, an architecture firm specializing in innovative housing and project development with a focus on social and ecological sustainability.
For more information about Malmö in the Making and the public program, click on the link.
Open Architecture Studio, OAS, is an initiative by Sveriges Arkitekter Skåne and Form/Design Center. Over two days, architects and curious residents of Malmö are invited to visit architecture offices across the city and participate in ongoing projects and processes. These days provide an opportunity to engage in a broader conversation about architecture, where dialogue, process, and results take center stage. Learn more about OAS here.
Visit our interactive platform at the following link.