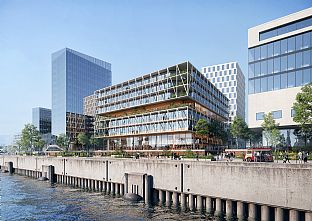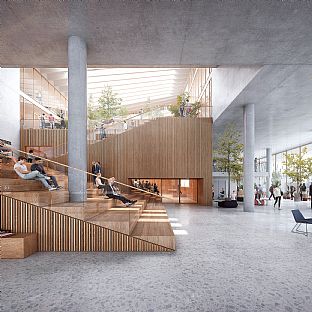 20.1.2022
Competition Win. C.F. Møller Architects contributes to the waterfront city of the future
HafenCity Hamburg is Europe's largest inner-city urban development project and serves as the prototype for the European waterfront city of the future. C.F. Møller Architects is contributing to this development with a sustainable building that will serve as a social marketplace for people, content and ideas and provide the framework for tomorrow's educational institution.
The new urban area Hafencity on the Elbe, Hamburg is setting new standards in Europe and beyond as an ambitious integrated urban development, answering both local needs and global requirements. On an area of 157 ha, a lively city with a maritime feel is taking shape, combining workplace and residential uses, education, culture and leisure, tourism and retailing – in a way that is quite unlike downtowns dominated by offices and shops. The aim is to set international standards for conceptual and architectural quality. C.F. Møller Architects contributes to this with the winning proposal for a sustainable building, which combines the university Medical School Hamburg (MSH) and office spaces.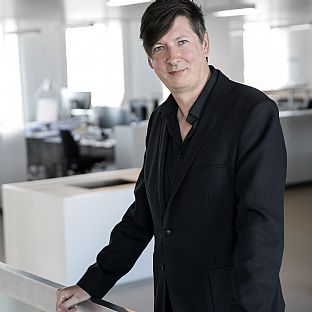 The building is characterised by a high degree of flexibility, which increases the possibilities for future adaptation and longevity. The project has been selected as the winning proposal in an international architectural competition organised by the MSH, the Hamburg Ministry of Urban Development, Patrizia and HafenCity. A total of six architectural firms participated in the competition.

- We see this project as a great opportunity, on the one hand, to create an example for new sustainability initiatives that shows how buildings can be thought of in a resource-conscious and transformable way; on the other hand, to design an attractive and contemporary learning and working environment that promotes communication and community, and also allows the public to benefit from its prominent location on the Elbe. It is therefore a great pleasure for us to realise this pioneering project with Patrizia and the Medical School Hamburg, says Julian Weyer, Partner & Architect, C.F. Møller Architects.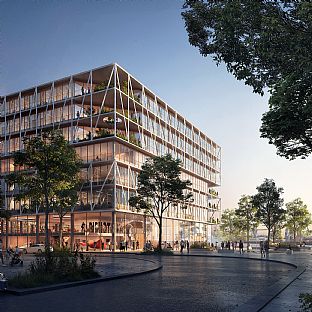 Design and Functionality
The principle for the project, which is located at Building Site 63, is "design for disassembly". The building elements, which consist of a simple concrete skeleton, with cantilevered balconies in a grid structure and simple facade elements in wood and glass characterise the building visually. Further, the building elements can be easily disassembled, transformed, or replaced.

The upper floors of the building consist of offices, and the private university, Medical School Hamburg, is located on the lower floors. The university floors are connected by an inner staircase and culminate in a terrace facing the Elbe, designed for outdoor teaching. The staircase is a large wooden structure decoupled from the supporting concrete structure so that it can be easily disassembled for different uses of the building.
The staircase contains functions such as an auditorium, and platforms for meeting places and informal work areas. The wooden structure begins on the ground floor, which serves as a unifying and publicly accessible space that also includes a café, library, and flexible retail and exhibition spaces, all with panoramic views of the Elbe. Renken-Olthoff.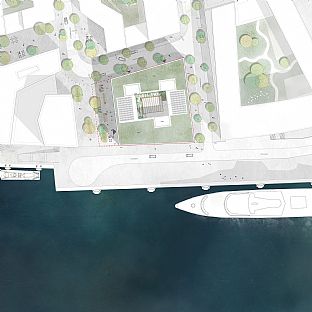 The sustainable architectural concept
The building's elements have been selected based on different lifespans, low resource consumption, recyclability, and local production.
The load-bearing frame is made of graded concrete, a new type of lightweight concrete construction, which reduces resource consumption by 30-45%. The other prefabricated building elements in wood, steel, clay, and glass fiber reinforced concrete can be disassembled and reused as requirements change.
In combination with low-energy solutions, such as natural ventilation, good daylight conditions, and a self-shading facade design, the CO2 emissions are reduced by 42% and the building exceeds the requirements for the Hafencity Ecolabel-Platin category, which is the most ambitious sustainability certification in Germany.
"This innovative project sets standards in terms of sustainability through the use of recycling and reusable building materials, as well as the use of gradient concrete for C02 reduction. At the same time, the project with its high architectural standards blends in perfectly with the overall image of HafenCity in the immediate vicinity of the future cruise terminal. With the Medical School Hamburg as a main tenant, a strong link between the city, education and the public will be created in the Strandkai quarter. The outstanding location directly on the Elbe will thus be able to positively affect the everyday lives of thousands of students. We would like to thank all the participating offices for their entries and wish the project team success in the further implementation," says Harald Wüst, Head of Real Estate Development Hamburg, PATRIZIA AG.

About Hafencity
In total more than 2.5 million sqm gross floor area (GFA) is to be constructed above ground. More than 7,500 residential units for around 15,000 residents are being built, as well as business premises offering in excess of 45,000 job opportunities (of which 35,000 will be in offices), plus educational institutions (child daycare, schools, universities), restaurants and bars, retail, cultural and leisure amenities, with parks, plazas and promenades – after overall completion, 80,000 visitors per day are expected.
About Patrizia
Patrizia is leading partner for global real assets, and they offer investors a broad variety of attractive investment opportunities underpinned by over 37 years of experience and rock-solid, up-to-the-minute research.


About MSH
The MSH Medical School Hamburg - University of Applied Sciences and Medical University is a private, state-approved university based in the Hamburg HafenCity. It was founded in 2009 by the Managing Director Ilona
Presse Release HafenCity
HafenCity
Medical School Hamburg (MSH)
Patrizia
Project Description