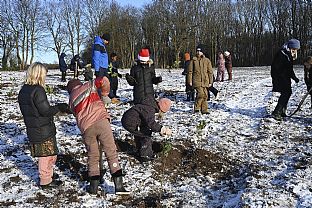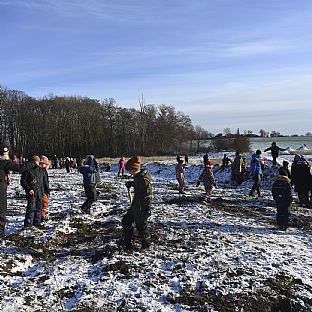 2.12.2021
400 children plant school forest in Denmark with C.F. Møller Architects behind the vision and masterplan
In a collaboration between Aarhus Municipality and the Danish organisation "Plant a Tree", C.F. Møller Architects is contributing with the vision and masterplan for a school forest - a wild forest area for learning and nature experiences at Ajstrup, Denmark.
High sun, snow-covered hills and 400 children from different primary classes in Aarhus Municipality set the scene for a morning where the first trees were planted to transform the open hilly landscape at Ajstrup into a future wild forest.

With 40,000 newly planted trees at the coastal location of Ajstrup in East Jutland, the school forest will be a spearhead project for the expansion of school forests in Denmark.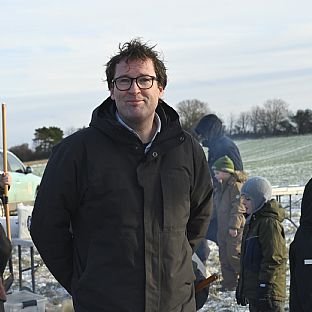 Learning and community around nature
The vision for the school forest is to create a forest area that grows every time a child starts school in Aarhus Municipality, with each pupil planting a tree in the forest when entering primary school.

The forest provides a framework for school communities and education in natural environments. Pupils learn about the processes involved in planting a forest and follow the forest's growth throughout their school years. Eventually, as the forest grows, children learn to navigate and survive in nature. Just as the forest is also an ideal education environment for learning about CO2 storage, photosynthesis, and biodiversity.
"At C.F. Møller our vision is to improve life for people and planet. So, it makes so much sense to contribute to this important and sympathetic initiative that restores nature, supports learning and activates young people in new communities. The future school forest will help promote the understanding and importance of our nature and climate. We hope the project will be a great inspiration and joy for many children in the future," says Michael Kruse, Architect and Partner at C.F. Møller Architects.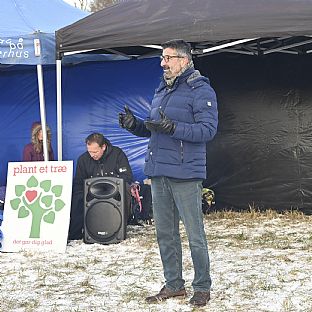 In addition to the 400 pupils, the Councilor for Technology and Environment and member of Aarhus City Council, Bünyamin Simsek, also participated:

"It makes a lot of sense to engage the children and give them ownership of the forest. Because we are totally dependent on them and their commitment to nature if we are to ensure a green focus is a priority in the future. And we must do this, because proximity to forest and nature is at the top of the list when the inhabitants of Aarhus are asked to describe why they like living in the municipality."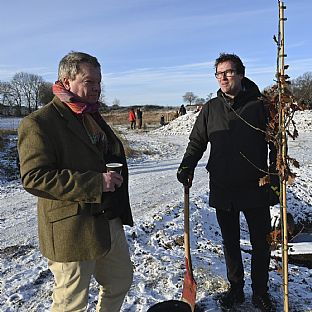 Vision and master plan: enhancing the natural terrain
Ajstrup School Forest enhances the natural terrain, linking the coast and nature areas at Ajstrup and Norsminde in East Jutland.

In the centre of the forest, a wetland adds a wealth of biotopes for animal and plant life. Apart from lookouts on existing hills, wild footpaths and a horse path, the forest has no built-up areas for, for example, fireplaces and shelters. It is up to visitors to create their own campsite and leave the area untouched when they leave. Such experiences contribute to the understanding that nature is worth cherishing and is more than just a backdrop for a walk.

"Children are nature's future ambassadors and a wilderness trip can help give them an understanding of all the values and resources nature holds. The good experiences in nature will hopefully motivate the children to take good care of it," says Jens Døssing, national chairman of "Plant a Tree", who has helped coordinate donations and collaborations in connection with the creation of the Children's Forest and several other new forests in Aarhus Municipality.

The Children's Forest can potentially obtain a total area of 20 hectares. There will be only one forest road through the area and one cleared path. Furthermore, it will be up to forest visitors to make their own way through the forest, which will be allowed to grow wild. When the forest is fully developed depends on the support of the schools.