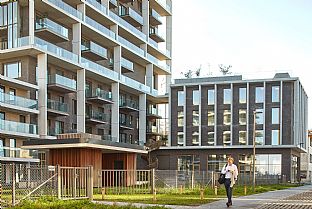 21.9.2020
Vertical Villagers are settling in Antwerp tower "Scheldezicht"
A new tower in Antwerp is designed as a 'vertical village' by C.F. Møller Architects in collaboration with BRUT Architecture and Urban Design and the villagers have now started to inhabit the tower.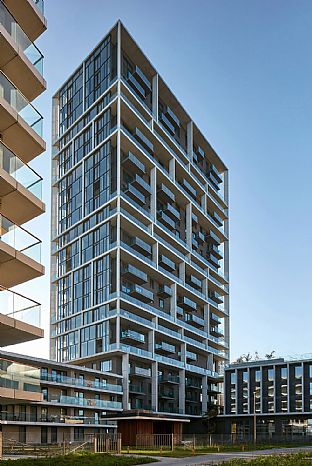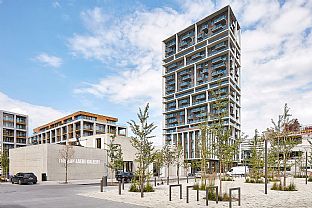 A new 24-storey residential tower has risen in Antwerp's Nieuw Zuid area on the river Scheldt, with the aim of redefining the multi-storey block as a social, vertical community. The tower is designed by Scandinavian C.F. Møller Architects in collaboration with Belgian BRUT Architecture and Urban Design. Together they won the international architectural competition in 2014 held by Triple Living in Belgium for a new residential tower right by the river.

A tower with a community feeling
In multi-storey buildings it is often a challenge to achieve any sense of community when you only meet your neighbours in the lift or lobby. This tower block is characterised by diversity where social encounters are facilitated without sacrificing the need for privacy.
The aim of this project is to break with the traditional multi-storey building typologies, which isolate residents. Using a wide range of original design solutions, the tower block creates a sustainable, collectively-oriented community. "The design of our building is based on the idea of stacking the typical town houses, that can be found in the adjacent historic 'Zuid' neighbourhood, on top of each other, integrating it into its urban context while also giving additional benefits to the inhabitants in terms of living quality", says Gunther Slagmeulder, Architect, Urban Planner and partner at BRUT Architecture and Urban Design.
A neighbourhood in a building
The tower block includes many different types of housing for a varied mix of residents, from small, shared flats for students, to larger family homes and live/work homes. Besides apartments the project includes shops, office spaces and communal facilities. The shared facilities for the entire tower block include a bicycle workshop, a laundry room and a community room with a large rooftop landscape on the fifth floor, which are accessible to all residents.
An external grid divides the tower's façades into smaller units called 'mini-communities'. The units consist of varying numbers of private balconies, which are staggered in relation to each other in a way that gives a sense of intimate neighbourliness across the storeys, with the opportunity for both social interaction and privacy. This adds 4,000 m2 of extra space comprising terraces, winter gardens and rooftop terraces, providing extra quality to the apartments. Visually this also helps to highlight the building's unique characteristics, which are recognisable on a large urban scale while also providing intimacy on a human level.
"Living vertically in housing towers around the world is normally socially challenging. This tower seeks to solve this problem by creating multiple common zones and areas and local, physical potential for social contact in the "mini-communities" of the facades. These act as tools to enable the neighbours to get into closer contact with each other and thereby create a strong and resourceful community feeling", says Lone Wiggers, Partner and Architect at C.F. Møller Architects.
So far 50% of the residents have moved into the tower and the 'vertical village' is expected to be completely inhabited by the end of this year.
Gallery