4.1.2021
Nominated for an EU mies award 2022
Biomedicum in Stockholm, designed by C.F. Møller Architects for Akademiska Hus and Karolinska Institutet, is a European Union Prize for Contemporary Architecture - Mies van der Rohe Award 2022 nominee.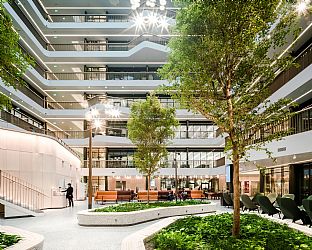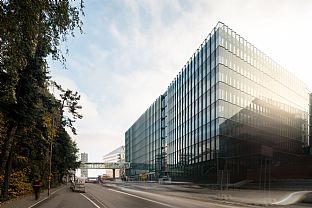 The new laboratory building Biomedicum is a powerhouse for research at the Karolinska Institutet in Stockholm, one of the world's leading medical universities, known amongst other things for selecting the recipients of the Nobel Prize in medicine and physiology.
Biomedicum was completed in 2018, ahead of time and under budget, and has since then received numerous awards such as the MIPIM Award 2020 in the category 'Best Healthcare Development', the Architecture MasterPrize - Healthcare Architecture 2019, the CODAawards - Healthcare Winner 2019, and has been selected as Årets Bygge (Building of the Year) in Sweden in 2019.

The Mies van der Rohe Award is a prize given biennially by the European Union and the Fundació Mies van der Rohe, Barcelona, 'to acknowledge and reward quality architectural production in Europe'. It is considered as one of the most prestigious European awards.

Client: Akademiska Hus (client) and Karolinska Institutet (tenant)
Architect: C.F. Møller Architects
Landscape: Landskapslaget AB
Interior: Nyréns Arkitektkontor
Construction Skanska
Gallery