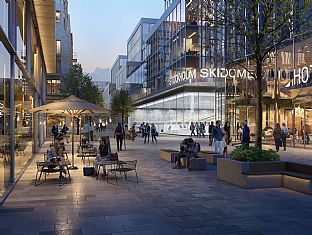 17.6.2020
Green light for Barkarby City, Stockholm
Located close to nature, Barkarby City will become one of Stockholm's future new regional centres. A hub for infrastructure and public transport by train, metro and bus provides easy access to homes and workplaces. The local plans have now been finalised.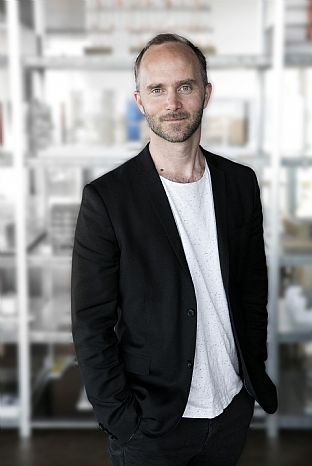 Barkarby City is an extensive urban development project in Barkarby, north of Stockholm. There will be a mix of homes, workplaces, restaurants, shops and a 30-storey hotel within the six new neighbourhoods that make up Barkarby City and a new centre with a focus on sustainability and health. The area will become an attractive location for many different types of businesses and companies. A 1.2 km long indoor cross-country ski track will be open to the public all year round.
"We are pleased that the local plan for Barkarby City has been given the green light. We look forward to the next step of building upon the ideas we have developed together with Okidoki Arkitekter and Serneke." says Mårten Leringe, CEO and architect at C.F. Møller Architects.

Sports facility with cross-country ski trails
A 1.2 km long indoor cross-country ski track will be open to the public all year round, supplemented by a small ice-skating rink, curling rink, ice cream bar and café. The sports facility will be a destination for families, companies and elite athletes. Adjacent to the ski track is a hotel with a restaurant and a sky bar on the top floor.
The buildings are adapted so that they form protection against the highway and the railway line to the north, with the lower residential buildings meeting the large park in the south. The buildings become progressively taller towards the centre of the area and Barkarby Station. Barkarby City is built as a traditional neighbourhood town that has been cross-fertilised with high-rise buildings of up to 33 floors, giving the area a unique character.
The facades are designed with different materials such as glass, brick and timber, giving different areas distinctive identities and creating an aesthetically diverse neighbourhood. The goal is to build sustainably and to prioritise timber frame construction.
A new centre is created in Barkarby with everything a city has to offer. The site will be a new hub in the Mälaren Valley and the Stockholm area. The area of land for the new district is located on the western side of the E18 adjacent to the current area of Veddesta.
"Barkarby is one of the most interesting areas in the region and we are very pleased to have had the privilege of contributing to urban development together with Järfälla Municipality. We look forward to the next step in the development of the project and to be able to fill the buildings with relevant, attractive and exciting content," says Patrik Lindström, Vice President of Serneke Sverige AB.
Original concept: Okidoki Architects & Serneke.
Further development of the concept: C.F. Møller Architects, Okidoki & Serneke
Size: 126.800 m²
Contact:
Mårten Leringe
Partner, Managing director, Architect sar/msa
D:+46 (0)7 0563 7519
E: mle@cfmoller.com

Peter Sikker Rasmussen
Head of Communications
D:+45 6193 6857
E: psr@cfmoller.com