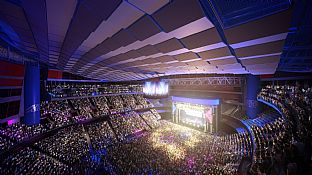 18.7.2023
Design and Construction Team Share Details About Avicii Arena Transformation
C.F. Møller Architects, HOK and schlaich bergermann partner (sbp) collaborate with Nordic contractor NCC to reimagine Europe's largest spherical building, Avicii Arena, in Stockholm, Sweden.
Stockholm Globe Arena Fastigheter AB (SGAF) and the Avicii Arena project team have unveiled further details about the modernization and transformation project. NCC, the Nordic construction company that built the original venue in 1989, has been selected as the construction manager for the project. The iconic venue, listed as a heritage building, is set to undergo a significant upgrade.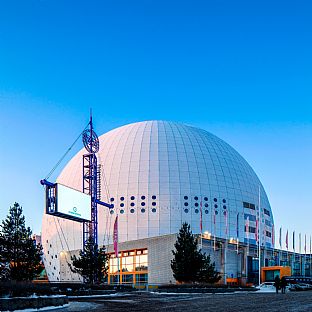 "SGA Fastigheter has been working on identifying the optimal manner in which to wisely and responsibly upgrade the fantastic Avicii Arena for the future," said Mats Viker, CEO of SGAF. "We have engaged some of Europe's foremost international consultants in overseeing the renovation and look forward to ensuring the building continues to be a destination for international events and excellent experience for hockey fans for decades to come."
The renowned building, home to Sweden's national hockey team, hosts a diverse array of events and high-profile concerts. The National Hockey League (NHL) recently announced plans for four regular-season games to be held at the venue later this year.

"From the start, the design team has been committed to celebrating the building's history and heritage while dramatically modernising the experience," said Kirsty Mitchell, senior project manager in HOK's London studio. "Our design solutions achieve this balance, ensuring that the venue is forward-looking, flexible and programmable for a variety of needs."

New artists renderings, which are subject to change, illustrate the extensive retrofit of the structure, which will feature a unique retractable ceiling concept to enhance acoustics and create a more intimate atmosphere for fans and concert-goers. A ring-like structure will hover above the seating bowl, with automated, movable panels that can transform the building and optimize the reverberation time according to the type of event. When not in use, panels can be parked out of sight to allow unobstructed views of the spherical building.

The design team will also introduce a new premium amenity—gondola seating. This concept, inspired by a similar product at the HOK-designed Little Caesars Arena in Detroit, Michigan, offers fans a unique perspective. The seats, located closer to the ice, pitch or stage than the previous section was, will slightly overhang the seating bowl.
The lower seating bowl will be dramatically enhanced, with a more efficient design, new seating closer to the ice and the potential for a substantial increase in premium offerings. These strategies will ensure a more versatile venue for operators and improve the overall experience.

"Updating a building as unique and complex as the Avicii Arena must be carried out carefully, with respect for the building's historic appearance, yet remaining focused on modern requirements and technology," said Henrik Landelius, business area manager at NCC. "We are very proud to return to this landmark that NCC built, developed and is now going to modernise."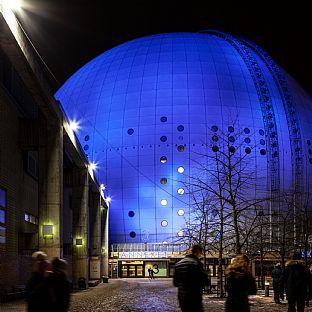 HOK is the design architect, C.F. Moller Architects is the associate architect and sbp is the structural engineer and design lead for the retractable roof. Ramboll is the MEP engineer, Efterklang is the acoustical engineer, Light Bureau is the lighting designer, AFRY is overseeing cost management and Movement Strategies is leading crowd dynamics.

"We are very proud to be part of the development of one of Stockholm's most iconic landmarks into a modern multi-arena, in collaboration with HOK, Schlaich Bergermann Partner and NCC," said Danyal Taylan, Architect at C.F. Møller Architects.
"Together, we form a strong international design team working to create innovative and sustainable solutions to enhance the arena. In the aftermath of a pandemic, sports and events hold a significant role in shaping our future communities and demand heightened attention."

"The refurbishment of Avicii Arena sets a new benchmark for arena upgrades, driven by a well-coordinated collaboration with a dedicated client enabled by state-of-the-art engineering solutions that our design team developed together," said Knut Stockhusen, Board Member and Managing Director at sbp.
The project is scheduled for completion by early 2025.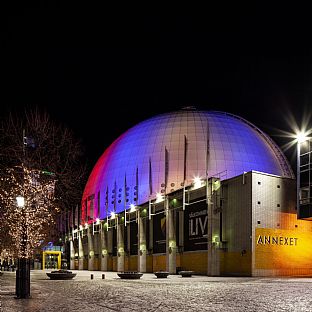 About HOK
HOK's Sports + Entertainment practice specialises in the design of arenas, stadiums, ballparks, training facilities and entertainment centres. The group plans and designs world-class facilities that are centrepieces of successful, vibrant entertainment districts, communities and campuses. Current and recent projects include the AO Arena Redevelopment in Manchester, England; Etihad Arena in Abu Dhabi; Roig Arena in Valencia, Spain; Mercedes-Benz Stadium and the State Farm Arena renovation in Atlanta; the renovation of Footprint Arena in Phoenix; the CITYPARK MLS stadium in St. Louis and a new MLS stadium for the New York City Football Club (NYCFC) in New York; Rogers Place and the Ice District in Edmonton; Little Caesars Arena in Detroit; and significant renovations of Hard Rock Stadium in Miami and TIAA Bank Field in Jacksonville, Florida. With offices around the globe, HOK designs buildings and spaces that respond to the needs of people and the environment. HOK designers are rooted in technical excellence, driven by imagination and focused on a solitary goal: to deliver solutions that inspire clients and communities
About schlaich bergermann partner (sbp)
sbp is an internationally renowned structural engineering and consulting firm based in Stuttgart, Germany with expertise in large-scale, long-span, high-rise, sports and entertainment projects which are architecturally and aesthetically pleasing, but also innovative, efficient and lightweight. With a multidisciplinary team of more than 250 members designing and delivering holistic and sustainable solutions, projects of note include many stadium projects in Germany, South Africa, South America, China, and the first fully demountable container stadium, several club stadiums throughout the world, and various multipurpose arena projects in Europe. The rehabilitation of BC Place Stadium (Vancouver) or Stadium Maracanã (Rio de Janeiro), and more recent projects such as Wanda Metropolitano Stadium (Madrid), Tottenham Hotspur Stadium (London) or the Allianz Stadium (Sydney), but also projects currently under construction including the Roig Arena (Valencia), the Olympic Aquatics Center (Paris) or MHP Arena (Stuttgart) are just a few of these highlights.


About SGAF
Stockholm Globe Arena Fastigheter AB (SGA Fastigheter), owned by the City of Stockholm, is a real estate company responsible for the management of Tele2 Arena, The Globe (Aviici Arena) as well as SkyView, Annexet and Hovet, among others. The company also owns the entertainment destination Tolv Stockholm and land in The Globe area.