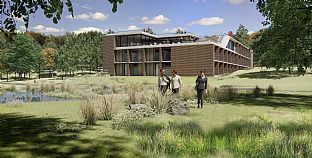 30.8.2023
Salling Group Builds Responsibly: Constructing a Large Timber Campus Designed by C.F. Møller Architects
In Ebeltoft, Denmark lies Campus BØGEHØJ, owned by Salling Group. Every year, the place hosts up to 20,000 guests every year, including the corporation's students, executives, and staff. It serves as the primary training ground for all of Salling Group's trainess
The buildings are undergoing a major renovation and expansion to provide even better experiences for guests. The entire current wing, Wing 2, will be demolished, and an entirely new one constructed from timber will be erected.
Salling Group's decision to build the new wing in timber is driven, in part, by the corporation's commitment to minimizing its carbon footprint on the environment. Timber construction is expected to have a lower carbon footprint compared to conventional building methods. Consequently, with the use of timber, Campus BØGEHØJ is ahead of future Danish building regulations expected by 2029.
"We are opting for timber construction and meeting stringent building requirements because at Salling Group, we want to reduce our impact on the climate. It's also a part of our sustainability strategy. By building with timber, we significantly reduce the CO2 footprint, equivalent to about a 40 percent reduction compared to traditional construction," says Henrik Vinther Olesen, Sustainability Director at Salling Group.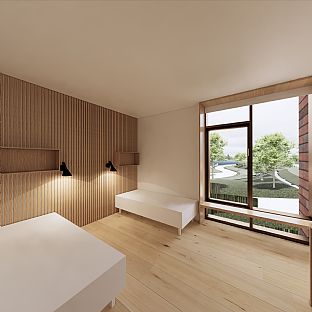 The timber modules for the new wing are being produced at a Danish factory and will be transported from the factory to Campus BØGEHØJ. Upon arrival, all that's needed is the connection of utilities, completion of facades, and the placement of beds, chairs, and bedding; then, the rooms will be ready for use.
"We want to be ahead of the game, even with our future construction projects. Building in timber with minimal use of steel and concrete represents a significant shift. In the future, we need to think differently about material choices and methods in construction. The primary approach is the widespread use of timber, but at BØGEHØJ, we are also installing charging stations and solar panels far beyond minimum requirements in Denmark, in addition to working on local rainwater management and green sedum roofs," explains Henrik Haudrum Olesen, Construction and Establishment Manager at Salling Group.

The green sedum roofs, among other benefits, help delay rainwater runoff during heavy rains and are beneficial for biodiversity.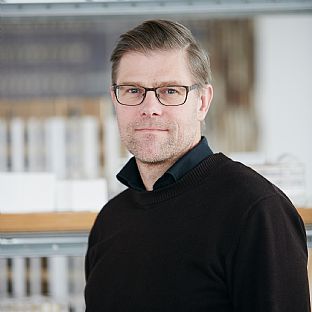 C.F. Møller Architects, the firm responsible for the renovation of Campus BØGEHØJ, is enthusiastic about the collaboration on this project.
"When building anew, it's crucial that we think holistically with consideration for climate and the environment, and that we use materials wisely. It's fantastic to have a client like Salling Group who wants to take the lead and set the direction. Hopefully, the new wing won't just send a message with its carbon footprint but will also contribute to raising environmental awareness among all the guests who will use the building," says Klaus Toustrup, Partner and Architect at C.F. Møller Architects.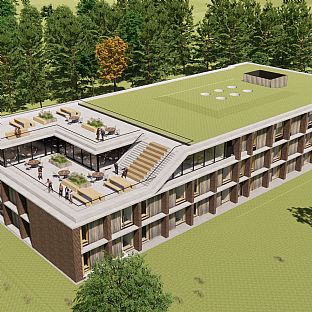 Reuse of old stones
When the demolition of the old wing begins, the paving from the central part of the wing will be preserved and reused. These old stones will be used to create a terrace in front of the bistro in the main building of Campus BØGEHØJ, enhancing the outdoor area for guests.
As guests sit on the terrace or move through the outdoor areas surrounding Campus BØGEHØJ, they can appreciate the focus on biodiversity. Approximately 3.5 hectares of land have been designated for this purpose. The area is filled with various plant species left to grow wild and self-maintain, with only one annual mowing and hay collection, which occurs after October 1st.
In addition to the renovation and construction of the new wing, a large conference hall with a capacity for 180 people and a rooftop restaurant and terrace accommodating 180 diners will be built. The new buildings will feature sedum roofs.