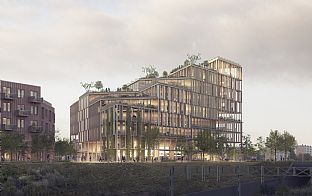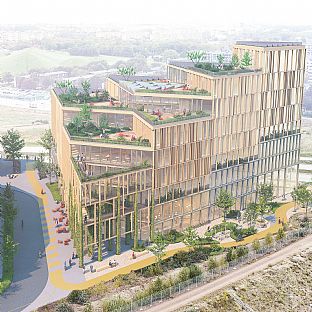 26.4.2022
Wins competition in Malmö with triangular office building
C.F. Møller Architects has won a competition organised by the Municipality of Malmö in collaboration with the construction company Wästbygg, with the proposal "Prisma Parkkvarter3". The proposal covers a triangular-shaped office building of 14,500 sqm, which will become a new landmark in the district of Hyllie, Sweden. The height of the building varies from four to nine storeys and is designed with roof terraces at different levels and structure in timber. Construction will start in 2024 at the earliest.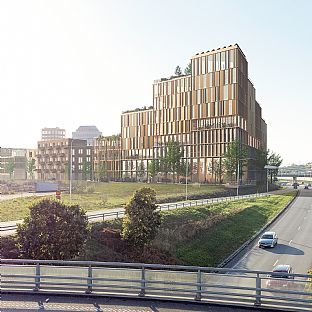 Hyllie is a district in the Väster urban area of Malmö, Sweden and is Malmö's largest development area. Today, approximately 8,000 people work in Hyllie and new offices are opening up every day. When fully developed, there will be approximately 15,000 workplaces.

The project is part of the development area "Öster om mässan" in Hyllie, where housing will also be built. All developers will actively participate in a developer dialogue on how to design the area to include social sustainability. The housing in the area will be built according to the City of Malmö's own "template book concept", which involves testing new methods to achieve a standard rent of a maximum of SEK 1,400/sqm of living space.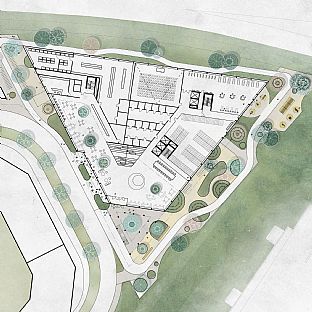 "We are both pleased and proud that the City of Malmö has entrusted us to participate in the continued development of Hyllie through this award. Our application is part of our strategic effort to increase the proportion of commercial projects in our development portfolio. We are therefore pleased that the Technical Committee has recognised the qualities of the proposal that we have developed together with the architectural firm C.F. Møller Architects. We will now use our expertise in sustainable construction to create modern and pleasant workplaces for future tenants, as the building will be certified according to Breeam, Well and NollCo2", says Joakim Efraimsson, CEO of Wästbygg AB.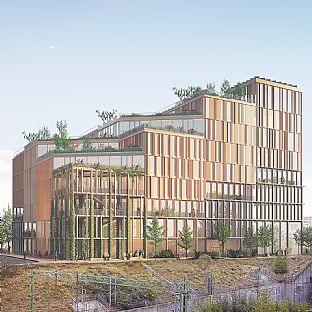 New landmark

Prisma Parkkvarter3 will be an inclusive and sustainable office building that contributes to the experiential environments, creative meeting places and green spaces for the entire district. At the southern tip of the block, there will be a vertical green park that gives the project a unique character. The park will be accessible to all and will provide space for recreation, outdoor work and an exciting lookout point.

The new block interacts with its surroundings and prioritises a focus on well-being, health and creative encounters in a sustainable setting. The project consists of generous coworking spaces, a gym with a multi-purpose hall, restaurant and café, sports and activity park, neighbourhood cinema, dry cleaner, bicycle workshop, urban gardening and more.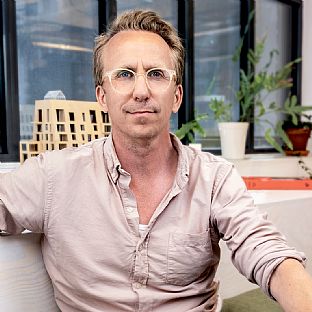 The building's prismatic geometry and stepped scale provides an architecture with a clearly identifiable silhouette for the surroundings and at the same time, improves the spatial qualities for the local environment. It becomes a landmark with a clear architectural concept that is visible from a distance. The building volume consists of several equally sized triangles that create a varied and green environment with terraces stepping down towards the residential quarters. The volumes provide good conditions for daylight and create a noise barrier for the roof terraces.
"We look forward to working with Wästbygg to develop this visionary office building with a comprehensive initiative for sustainable and circular architecture. The office building will be an important and inclusive node in neighbourhood life and with its sculptural silhouette it will be a landmark for climate-neutral timber architecture. The prismatic geometry with triangular roof terraces and the three-dimensional park has given the project its name Prisma Parkkvarter3", says Ola Jonsson, architect and associate partner at C.F. Møller Architects in Sweden.
Sustainability focus and integrated landscape design

The structure will be built as a hybrid, prioritising solid wood and green concrete, as well as recycled materials in the facades, interior finishes and for the landscape design. Integrated landscape design is a key part of the architectural concept, ensuring a resilient neighbourhood with positive ecosystem services and positive impacts on human health and well-being.
The building intends to be certified according to Breeam Excellent, Well Platinum, NollCo2 and Climate Smart Construction Site Gold (Wästbygg's own certification). In addition, the project will achieve the objectives of the Hyllie Environmental Programme, Climate Smart Hyllie and commitments in accordance with C.F. Møller Architects' membership of LFM30.