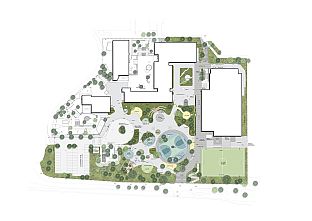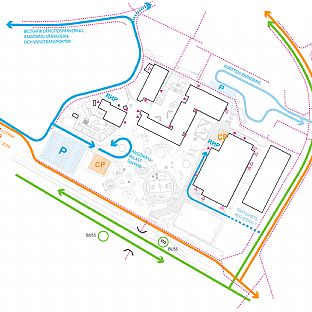 6.4.2022
Major investment in new schoolyard and park in Edsberg
C.F. Møller Architects is designing a new schoolyard for Edsberg School in Sollentuna Municipality, Sweden with the aim of increasing the attractiveness and safety of the area. Central Edsberg will also have a new park and activity area, which can be used both during and after school hours.
As part of the goal to achieve zero vulnerable areas in Sollentuna 2030, Sollentuna Municipality has started to develop Edsberg. Since the current schoolyard does not meet pupils' needs for a safe, equal and experiential environment, it will be renovated and renewed. The project is an important initiative to attract activity and to offer pupils and other residents an inviting meeting place, not least to reinforce safety in the area. The new schoolyard and park will be built around Edsberg School and on the areas down towards Danderydsvägen. Edsbergsskolan is a municipal primary school for grades 7-9 with special education and has about 600 pupils.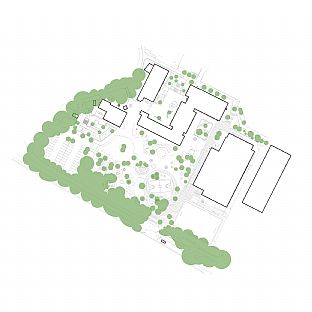 "It is with pride and great pleasure that we have taken on this exciting and important task. Edsberg is a beautiful place with so many qualities that are currently not being realised, while the area has its challenges in terms of perceived safety. This is where we feel we can make a difference. To help our clients and end users see the qualities of the place, identify potentials and develop a place based on a strong and clear concept focusing on the identity of the place and its users", says Jelmar Brouwer, head of the landscape department at C.F. Møller Architects Sweden.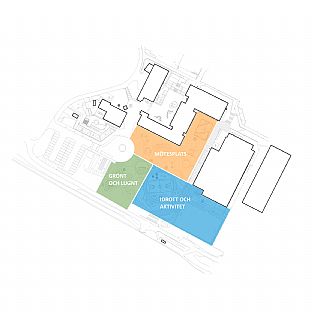 Broad and varied programme

The schoolyard and park will have a strong and clear design concept that will make the site an identity-rich environment in Edsberg that is inviting and inclusive. The schoolyard and park will have functions that can be used both during and after school hours. Programming has been done with special care for gender equality, creating both formal and informal activity opportunities. Formal team games such as football and basketball are given imaginative and creative variations, making it easier to try-out and play in smaller groups. Different types of meeting places are also created, both quieter places, called lounges, and places for socialising and meetings. The special needs school will have its own separate outdoor environment.

The schoolyard will have clearer boundaries and entrances to neighbouring areas, such as Edsbergs torg. In addition, a clear pedestrian route has been created between Edsbergs torg and Danderydsvägen.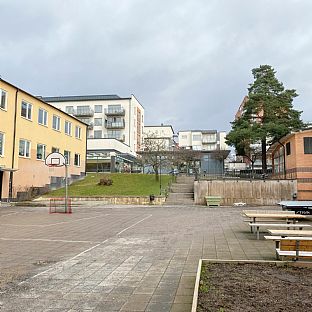 Dialogue with pupils

During the design process, dialogues were held with pupils and teachers at Edsberg School.

"We have had the opportunity to demonstrate to the pupils how a democratic process involving the pupils can work in conjunction with urban planning and design. They will remember this when they see the finished courtyard even when they are adults. It will make a difference for pupils and staff now and in the future, and for Edsberg School as well as for the whole of Edsberg", says Johanna Bergström, head teacher at Edsberg School.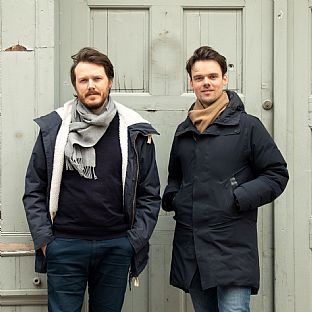 A place for Edsberg and a continuing mission

"Working with school environments feels really important. The strong commitment of the municipality and the school management to elevate Edsberg means that there are good conditions for designing a school playground that provides the pupils with activity opportunities and an inviting environment to spend time in. We are working to transform the site into a green space with great experiential values that will benefit the whole of Edsberg," says Henrik Larsson, the landscape architect responsible for the project.
Jelmar Brouwer adds:

"We are looking forward to the continued collaboration with Sollentuna Municipality where we both collaborate on the design, while investigating issues in the local area, actively developing the identity of the site and the end user's involvement in this. Developing a place with challenges like this, does not happen on the drawing board and is not limited by plot boundaries. To a large extent it is a process of change where we as landscape architects, together with our clients, show great commitment and have a great responsibility to ensure that the outcome makes a difference."