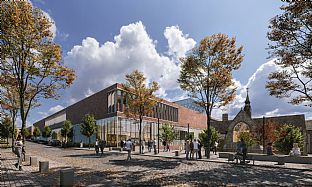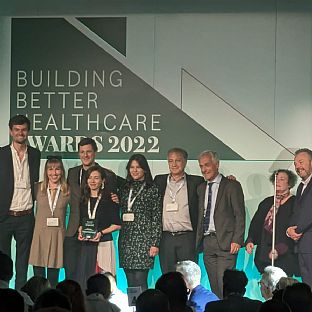 9.11.2022
Springfield University Hospital wins Building Better Healthcare award
C.F. Møller Architects has taken first place with their project Springfield University Hospital in the category Best External Environment Project. The project provides therapeutic surroundings for patients and wellbeing for staff and visitors.
The jury stated that the outdoor environment at Springfield University Hospital is an ambitious design that responds to the architecture, creates varied spaces, and maximises outdoor areas.
"We are delighted to receive this award for the gardens at Springfield University Hospital. These are spaces with a focus on nature, which we hope will bring tangible therapeutic benefits to the patients who use them and provide moments of calm and peace throughout their treatment," says Teva Hesse, architect and head of C.F. Møller Architects' London branch.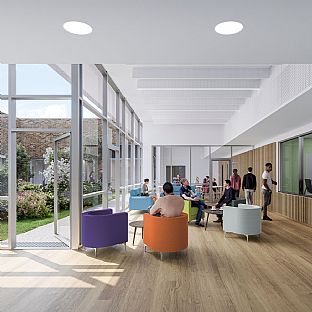 Evidence-based Healing Architecture
According to published evidence within the field of healthcare design, there are multiple factors that contribute to a healing environment. Views of nature and aesthetic surroundings are some of the key contributors to the user experience and thereby the healing process, along with daylight, legible wayfinding, a flexible floorplan, private patient rooms, noise reduction and lighting. Top priorities for the architects at C.F. Møller, when designing the Springfield University Hospital, were to imbue the new hospitals with daylight and direct access to planted gardens.
"We were very focused on creating planted gardens and not sterile courtyards. Planted gardens within which you can observe the changing seasons and experience the sights, smells, and textures of living nature. Gardens to bring biodiversity and therapeutic relief into a high-density health institution," says Sam Whatman, architect and director of C.F. Møller Architects' London branch.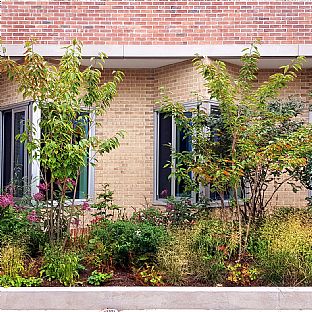 Outdoor spaces are the most appreciated
In post-occupancy surveys, all types of users: staff, visitors, and patients regard gardens and outdoor spaces as the most appreciated and beneficial of hospital features.
"The planning and design of mental health buildings is unique in that service users have a wide variety of long-term needs that must be met entirely within the facility. Our design mantra was to create therapeutic and biophilic environments that assist service users towards recovery, and to provide staff with a high-quality, safe environment that shows how much their work is valued. This developed into a series of garden design principles which have been incorporated throughout the project," Teva Hesse explains.
Design principles such as each inpatient ward has one or more large outdoor courtyard gardens; seasonal planting and different characters of the gardens to create a variety of smells and visual appearances throughout the seasons; and a design to encourage healthy activities, exercise, and positive social interaction.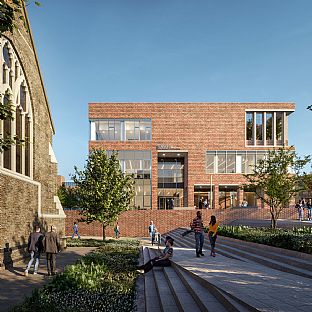 About Springfield Hospital
Springfield University Hospital is based on the concept of evidence-based architecture to provide therapeutic surroundings for patients and wellbeing for staff and visitors.
The Springfield University Hospital is at the centre of a 33 hectare estate regeneration, and C.F. Møller Architects has advised the NHS Trust in the planning and phasing of the surrounding residential development and urban design around the hospital, including the conversion of the former golf course into a new public park.
The hospital consists of two distinct buildings and provides a range of adult inpatient wards along with adult and children's outpatient services, Recovery College, teaching facilities and support services. The hospital buildings also incorporate retail shops and several floors of carparks that will serve both the hospital and the emerging residential plots that are being developed around the hospital.
The design is focused on creating non-institutional environments with good sightlines and acoustics, ample daylight, natural ventilation, access to gardens and outdoor spaces are key design objectives. The aspiration is to create a calming and safe environment, as well as optimal working conditions for staff. The design incorporates open plan areas at the centre of each ward to create a light and airy environment with strong visual and physical connections to adjacent external garden courtyards. The layouts generally allow easy overview of the ward entrance and of the majority of patient circulation areas. The design has sought to eliminate blind corners where possible.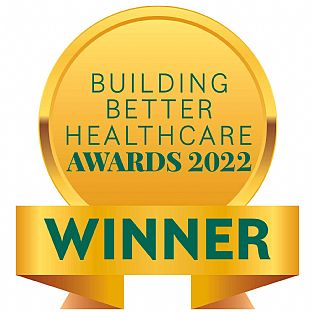 About Building Better Healthcare
 The Building Better Healthcare Awards honour the exemplary work produced for the healthcare built environment, medical device and technology sectors.
Open to NHS trusts, hospitals, care homes, architects, contractors, product manufacturers, suppliers and more, the award represents one of the most credible national health awards, celebrating those who consistently raise the bar in the industry.
Healthcare projects by C.F. Møller Architects