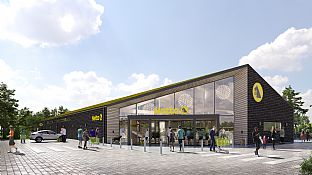 29.6.2020
C.F. Møller Architects and Netto come together for a new sustainable convenience store in Denmark
Built from recyclable materials, made of timber and clad in both wood and terracotta tiles, C.F. Møller and Netto are creating what will become Denmark's first DGNB Gold-certified free-standing grocery store.
The ambition is to set the standard for future grocery stores.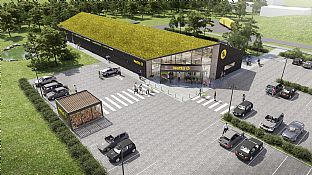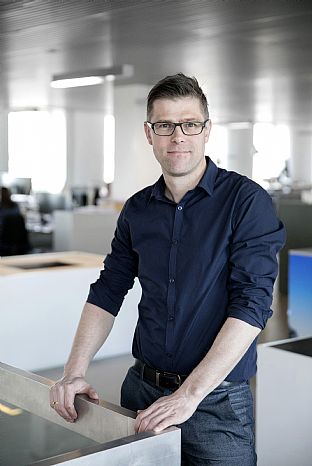 On the fertile soil of Bygholm Bakker in the western part of Horsens, work on building a brand new Netto store has begun.
The store will be the first free-standing Danish grocery store to achieve DGNB Gold when the construction is completed.
"We hope and believe that the building at Bygholm Bakker will become the new standard for Netto. We dare to make certain choices that we believe will benefit society and the local community in the long term. By taking the lead we hope to set a new direction for how we build grocery stores," says Michael Løve, CEO of Netto.
C.F. Møller Architects has designed the scheme in Bygholm Bakker.
C.F. Møller Architects is one of Scandinavia's leading architectural companies and in recent years has had an increased focus on timber construction. Among other projects, the company is behind Kajstaden Tall Timber Building, which is Sweden's tallest wooden building with nine floors.
"We are proud to contribute to Netto and Salling Group's vision of a more sustainable future by jointly developing the concept for Netto's new stores based on our experience with timber construction and sustainability," says Klaus Toustrup, partner and architect at C.F. Møller Architects.
Sustainable and circular construction
The building's facades are composed of terracotta tiles and wooden elements, and the roof structure is designed in Danish-produced laminated timber. The entrance area is lined with heat-treated Nordic pine. The building elements and mechanical joints are such that it is possible to separate parts of the building into complete elements for recycling and use in other construction projects. The landscape solution around the store enhances the local area's biodiversity with native shrubs and trees as well as natural grasses and wild flowers.
A green sedum roof contributes to rainwater immersion and temperature control by retaining warmth during the winter months and providing natural cooling during the summer months.
Solar cells on the roof and a special energy plant make the store partly self-sufficient with energy.
An exceptionally good indoor climate for a grocery store is assured in part by the large intake of daylight, improved air quality and the reduction in the use of materials containing harmful substances.
All sustainable initiatives are documented for DGNB Gold certification.
About DGNB
DGNB (Deutsche Gesellshaft für Nachhaltiges Bauen) is an international sustainability certification adapted to Danish conditions.
To obtain DGNB certification, a building or urban area is evaluated on the basis of a number of criteria within the five main areas of DGNB; environmental quality, economic quality, socio-cultural and functional quality, technical quality and process quality.
DGNB is managed in Denmark by the Green Building Council Denmark, which is a non-profit organisation working to promote sustainability in the construction industry.
"Fortunately, we are experiencing an increasing focus on sustainability in the Danish construction industry at the moment, and we are very excited that new types of buildings, such as grocery stores, are also emphasising sustainability - both when renovating and for new construction. We look forward to seeing the finished result," says Mette Qvist, director at Green Building Council Denmark.
Netto at Bygholm Bakker in Horsens:
- The store is DGNB Gold certified - a certification that categorises it as sustainable
- Most of the building is made of sustainable timber to minimise environmental impact
- The building's elements and mechanical joints make it easy to recycle
- The sedum roof contributes to heat storage and cooling in the store
- Solar cells and a new energy plant make the store partially self-sufficient
- Large windows ensure daylight in the store
- Minimising the use of materials containing harmful substances and improved air quality create a healthy indoor climate
- Opportunity to charge electric cars