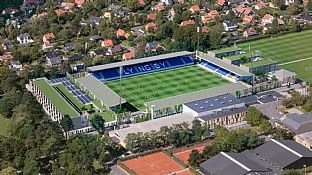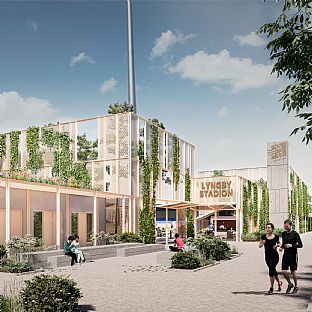 1.2.2022
C.F. Møller Architects Designs New Stadium
C.F. Møller wins tender for new sports centre in Lyngby. The proposal upgrades the existing stadium to Super League level and revitalizes the entire stadium area with a new health centre, housing for youngsters and elderly, and commercial premises.
 An upgraded stadium for Denmark's best football league with capacity for 6,500 spectators, new housing for seniors and young people, a health centre and commercial spaces are the contents of a new project designed by C.F. Møller Architects for Friends of Lyngby, an ownership group behind Lyngby Boldklub (Lyngby Football Club).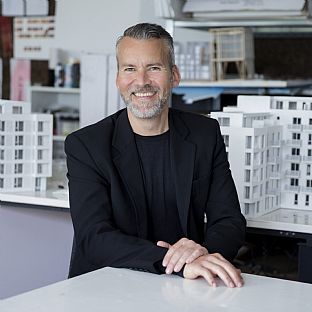 - We know that the idea of a better stadium has long been a desire of Lyngby Boldklub. We are therefore pleased that Lyngby-Taarbæk Municipality has chosen to go ahead with the proposal we have made in good cooperation with Friends of Lyngby. We have based our solution on a holistic approach which ensures a good integration between stadium, landscape and buildings. In that way the whole area is revitalized and obtains a better connection with the close surroundings, says Franz Ødum, Head of Branch at C.F. Møller Architects in Copenhagen.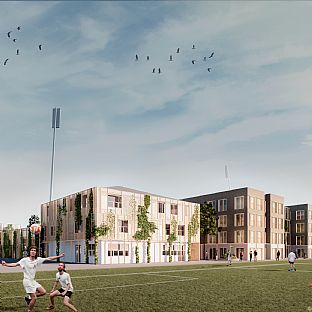 The coming period will see the start of the local planning process, the dialogue with the municipality and the further clarification of the project and aesthetic wishes from the municipality. The construction itself is expected to start in 2023 with a major, three-digit million project sum.
- We would like to send a big thank you to the City Council and Lyngby-Taarbæk Municipality for a long but very thorough process. It is a visionary decision that has now been taken, and the municipality deserves praise for it. We also owe a thank you to the individuals, fans, active members, sponsors and others who have supported our cause and helped push the tender in the right direction. And finally, a huge thank you to our ownership group, the board's building group, C.F. Møller Architects, our engineer MOE, and Norstad Development for a fantastic job," says Andreas Byder, CEO of Lyngby Boldklub.
Facts about the project:
- The new stadium will have a total of 6,500 spectator seats, will be enclosed in the corners and will have four covered stand areas. The stadium will thus meet Superliga requirements.
- The stadium project includes the renovation of Lyngby Stadium's South and East stands, as well as the construction of a new covered North stand.
- In the East stand, the lounge facilities will be extended to accommodate 5-600 guests.
- As part of the North stand, the Fanzone will be extended to include a playground and other activity areas for children and families with children.
- At the northern end, 188 student residences will be built, while 42 senior residences will be built at the southern end of the stadium area.
- The southern end will also house commercial and public spaces, including a 1,500 square metre Health Centre for Lyngby-Taarbæk Municipality.
- As part of the project, the existing clubhouse will be renovated and upgraded to a modern football complex, which will house Lyngby Boldklub's sports department, first team squad, football academy and broader football department.
- Construction is expected to start during 2023.
- The company Lyngby Stadion & Venner ApS has formally won the tender. Lyngby Stadion & Venner ApS is owned by Friends of Lyngby, which owns Lyngby Boldklub A/S.
Architect and landscape architect: C.F. Møller Architects
Engineer: MOE
Client Consultant: Norstad Development